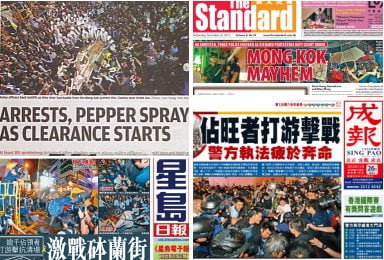 The Mongkok Mayhem is the inevitable outcome of Beijing's orchestrated United Front campaign to demonize and marginalize the Occupy Central movement. According to the script, public opinion turns so overwhelmingly against the foreign-funded, economy-wrecking radicals that the people take out their own court
injunctions, which the police then dutifully and heroically help enforce.
Back in the comfort of Beijing officials' totalitarian home turf, where the government writes all the news and there's no Twitter, the population would mostly buy into the narrative (any who beg to differ can always be 'disappeared'). In pluralist Hong Kong, it doesn't work that way. For every man in the street who sincerely thinks the students deserve a good thumping, there's an unconvincing patriotic stooge with a blue ribbon, and an underdog-backing, tycoon-hating student or granny whose response is to get up there and help rebuild barricades.
On the subject of tycoons, their Bauhinia Foundation 'think-tank' chooses this moment to present its solution to all Hong Kong's problems. Kids are angry about unaffordable housing? Easy – pack them into subsidized hostels to give them a few extra years to save the deposit they'll need to chain them for life to a mortgage on a tiny overpriced hovel. Also, give them a bit of job training so they'll be able to rise up the career ladder in the tourism-retail sector that squeezed everything else out of the economy. (They say the timing of this condescending pile of putrid Band-Aids is a coincidence. I can only quote Roseanne Barr: "I smell fear. I like that smell.")
In its heyday under Chief Executive Donald Tsang, the tycoon-bureaucrat establishment often resorted to the all-purpose front-man Ronald Arculli to smile and hold the booklet up for the cameras. If they wanted to reach out to the masses, they might be daring and go for Jackie Chan. To attract the young folk, they might wheel out the youthful, groovy, trendy Allen Zeman. But now, it seems, they're stuck with Plumpish Nondescript Spectacles Guy and Thin Close-cropped Dimwit Kid.
Dr Donald Li Kwok-tung SBS is a sort of Arculli-lite establishment clone, sitting on a bunch of the less glamorous poodle-packed advisory boards. He's from an obscure branch of the Bank of East Asia Li clan – but so are thousands of others. The Standard quotes him as saying that 'young people have a long-term impact', which I suppose is so amazingly profound unarguable. The lank boy Lau Ming-wai is perhaps more amusing. He is the son of property tycoon and secretary-impregnator Joseph Lau, who was found guilty of graft and sentenced to five years in Macau's grimy, rat-infested prison – a sentence he is tragically avoiding by staying put in Hong Kong, which obviously does not have an extradition arrangement with a city one whole hour away in the same country.
So, yes – this 33-year-old got to take over daddy's grubby second-tier player in our property cartel, and now he can make our young people's housing, career and family dreams come true, in such a way that, of course, will leave the basic cartel-crony system intact. Enough to make you laugh, cry, vomit or build barricades?