Hong Kong's last colonial Governor, Chris Patten, appears before a hitherto unheard-of US body called the Congressional-Executive Commission on China, which is holding 'hearings', no less, on The Future of Democracy in Hong Kong. To give you an idea of how thorough the commission is, its previous hearings were on Pet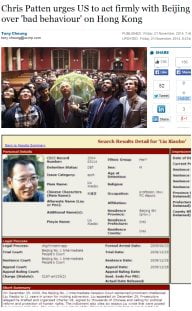 Treats and Processed Chicken from China: Concerns for American Consumers and Pets. Honest.
If you read Section 302 of the numerologically intriguing US House of Representatives bill 4444, you will find around two dozen items numbered (a) (1) to (c) (7) describing many of the functions of the commission. But in fact, they all add up to exactly the same single purpose: irritate the Chinese government in every way possible.
Not there's anything wrong with that. And Fei Pang naturally cannot resist. He repeats his warning to governments against falling into the grubby and unbecoming habit of kowtowing to China in the belief it is necessary for trade access. He also offers avuncular advice to our protesting pro-democracy students, referring to boy-wonder Joshua Wong virtually as the city's leader-in-waiting. And he drops in a dash of snark about how plutocracy may fit in nicely with socialism with Chinese characteristics. In short, he set out to get up Beijing's nose. Squeals of outrage about foreign interference will follow in the next few days.
This comes as the Congressional-Executive Commission on China updating the 1992 Hong Kong Policy Act with a Hong Kong Human Rights and Democracy Act. The likelihood that China's communist one-party state will give true universal suffrage to Hong Kong are essentially zero in the first place, but such a pointed and, by any standards, presumptuous gesture will go down like a cup of cold sick in Beijing and confirm the need to keep Hong Kong undemocratic on principle. More squeals of outrage, etc to come.
As well as organizing grand-sounding discussions to address China-related concerns for American pets, the commission offers a lesson on the dangers of bureaucratic sprawl and Parkinson's Law. Behold the 55-page User's Manual explaining, as if to infants, how to use the on-line Political Prisoner Database. There's no point in getting up Beijing's nose to the max if you don't make really really sure even people who have never used or seen a PC before can join in.
I declare the weekend open with the latest hidden subversive message in the Standard's ever-popular 'Character Builder' feature, which is brought to you today by the word 'ga'. As in 'ga yau' – 'add oil', or 'step it up' – motto of the Umbrella-Occupy movement…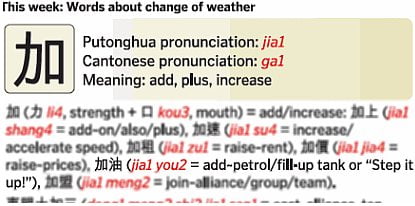 By 'weather', we mean 'government'.