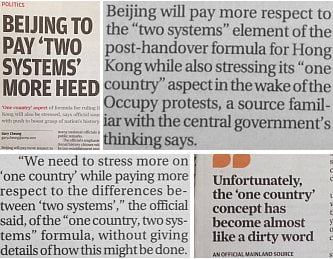 The lead story in today's South China Morning Post is that Beijing will put more emphasis on the 'Two Systems' bit of the 'One Country Two Systems' equation – and it will stress the 'One Country' part too. Coming after much ranting about how Hong Kong is part-of-China-so-shut-up, this message from 'a source familiar with the central government's thinking' sounds a teeny bit conciliatory, and sure enough a lame plea for student protesters to go home follows. And that's all on Beijing's policy on Hong Kong's autonomy.
The rest of the story turns out to be about the (now uncommon) study of Chinese history in schools, young Hongkongers' poor understanding of China, the failed

attempt to introduce National Education, young Hongkongers' need for a better understanding of China, and, finally, how terrible it is that young Hongkongers do not have a better understanding of China.
And so the search continues for the reason the Occupy/Umbrella uprising broke out. Maybe it was the CIA. Maybe the US and UK consulates. Maybe incitement by the foreign media. Or maybe Liberal Studies. And now another possibility: young Hongkongers' inability to understand.
Wait! Not so fast…
Seen slinking away, with a relieved and evil grin on its face, is the aforementioned Liberal Studies. The high school subject designed to help kids to think for themselves imagines it is off the hook. But it's not getting away that easily.
School exam officials, no doubt in the interests of transparency and to guide and encourage teachers and parents, have chosen this of all times to release examples of top-scoring answers. One question in the Liberal Studies end-of-year test was something like 'Explain briefly why, in your opinion, everyone is so massively pissed off these days (give examples)'. There was, of course, no 'correct' answer – but for reasons we can't even begin to imagine, the students who did best at thinking analytically wrote 'crap governance' (with examples).
Oh – the reason few students do Chinese history these days? Liberal Studies has essentially superseded it.
You almost feel a little twinge of sympathy for the Mainland officials tasked with balancing 'One Country' and 'Two Systems' and agonizing over how Hong Kong youngsters just don't understand. They must despair sometimes.
I declare the weekend open with the suggestion that the subject be re-named Radical Studies, Counter-Revolutionary Studies, or just plain Anti-Communist Studies.