French, Japanese and American purveyors of overpriced junk are silent, but Italian luxury goods brands are squealing: Hong Kong's pro-democracy Occupy Central movement is hurting their profits, and they are pleading with their landlords for rent cuts.
The Italian Chamber of Commerce was in the forefront of the mass-mouth-frothing orchestrated by Beijing's United Front among overseas business-community shoe-shiners a few months back. Right-thinking people found this distasteful at the time and will have little sympathy if Prad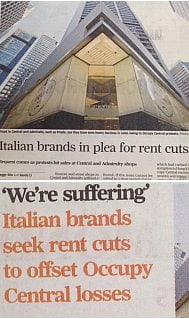 a, Ferragamo and Gucci shrivel up and die tomorrow. Nor will most of us be especially grief-stricken if landlords had to slash rents. It is possible that many of us have some exposure to the property/retail/tourism sector through pension funds, but something deep down makes us feel all warm and happy at the thought of real-estate tycoons' profits sliding.
It is often wrong to see zero-sum systems at work in economics. A classic example is the 'lump of labour fallacy' – the belief that only a fixed amount of work is available, so if one person gets a job, someone else must lose one. The error is to see work (or wealth, or health care, or bananas) as a cake that can only be sliced up 90-10, 50-50, 30-70 or whatever, when you can make the cake bigger.
It's a lousy metaphor – crummy, indeed. If you could make a cake bigger, you could 'have it and eat it', and declare 'let them eat' the stuff without sounding crass. Calling it a 'pie' (as in 'chart') helps a bit. But the principle is correct: unlike energy in physics, which can only be recirculated or redistributed, new wealth can be created.
That doesn't mean zero-sum is a myth. Every prudent family on a weekly budget has to go without one thing in order to afford another. And economic theories that say everyone should enjoy at least a slice of society's growing prosperity tend to assume a perfect and open market not distorted by – just to take an example at random – the Hong Kong property cartel.
So we might consider the possibility that in the Hong Kong economy, real zero-sum systems (or at least major I-win-you-lose imbalances) are at work. And the plight of the poor Italian fashion retailers might prompt us to ask about the big-picture role of rents for residential and commercial premises.
We have an artificially tight supply of space, thanks mainly to Hong Kong land policy. And we have an artificially exaggerated demand for space, thanks to Mainland shoppers and 'investors' diverted offshore by Chinese policy on private consumption and savings. This means big increases in incomes for landlords. It also means rents have risen far faster than most local people's ability to pay them. We know all this.
Now take it one step further. Is this a zero-sum game? Can we say that for every dollar extra in rent Hong Kong landlords make, the rest of the Hong Kong community must lose a dollar (or a fixed proportion) out of their pockets, or in purchasing power, or in higher entry barriers to trade?
If true, high rents are a tax on the whole non-landlord population. Anything that reduces rents will therefore be the equivalent of a tax-cut for the vast majority of residents. And any pro-capitalist think-tank will tell you what that means for the economy: higher disposable incomes, more incentives for entrepreneurs, more prosperity for all – a growing cake.

Take it one more step. Would it make overall economic sense for a Hong Kong government to commit itself to lower rents as a policy priority? To do whatever it takes: scrapping of the high-land price policy, looser zoning rules, sensible relaxation of building codes, punitive taxes on unoccupied premises and – not least – a bar on Mainland shoppers. In other words, forget all the stuff about 'pillar industries' and 'reputation for free markets' and just systematically unwind every distortion that pushes rents up.
There would be losers as well as winners, and not all would be Ferragamo (God that stuff's ugly) or tycoons. But would it on balance benefit the whole economy as measured by, say, median household income/purchasing power, or the propensity of students to camp on the streets? It would be fascinating to know.