According to adjacent items in today's Standard, Hong Kong's pro-democracy Occupy protests are damaging the economy, and the inclusion of Liberal Studies in the local high-school curriculum is being blamed for student participation in the demonstrations. Given the high student presence at the sit-ins, logic tells us that Liberal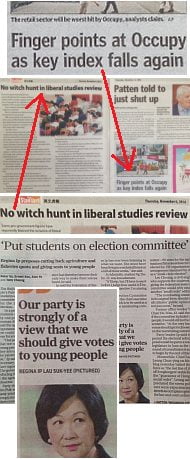 Studies damages the economy. But that strips the Umbrella movement out of the equation, when the idea is to vilify it.
Like this: Occupy Central threatens the rule of law in Hong Kong. All obedient officials, pro-establishment figures, pro-Beijing mouth-frothers and of course Chinese state media are saying so. Like the 'economic damage' claim, it has become a core Line to Take, designed to persuade moderates who love Hong Kong's traditional values that the protestors endanger us all.
Just as China's slowdown is far more likely to impact the Purchasing Managers' Index than kids camping in streets, the 'rule of law' allegation doesn't wash. School exam administrators hilariously helpfully issued guidance for essay-markers on this very issue a while ago. 'Rule of law', they advised, is distinct from merely obeying the law. (It essentially means rules-based rather than arbitrary government. You could accuse the Hong Kong government of damaging rule of law by not removing the activists illegally obstructing highways. Or you could perhaps accuse the protestors of showing disrespect for the law, though preferably not while double-parking your Mercedes in Central.) The education officials issuing the advice, by the way, oversee Liberal Studies.
Pro-establishment legislator Regina Ip recently called for Liberal Studies to be made an elective subject. She could have been jumping on the Liberal Studies-causes-riots bandwagon – she can't resist a bandwagon. But she could also be concerned that the trendy, wishy-washy subject eats into time kids could be devoting to serious stuff like Elizabethan poet Sir Philip Sidney. Or her disturbingly obvious lust for the Chief Executive's job compels her to say anything at any time. (More on Regina's devotion to both the English language and political ambition here.)
We can see this in her new suggestion to solve the Stroppy Politically Active Student Problem that is mysteriously afflicting contemporary Hong Kong: transfer seats on the CE Election/Nominating Committee from the Agriculture and Fisheries sector to the kids.
In all fairness, it's such a wonderfully cynical idea that a politician in a real democracy would be proud of it. Obviously, it pisses off the Ag-and-Fish people, who want to keep their 60 (of 1,200) seats on the committee that rubber-stamps Beijing's choice for the Chief Executive 'elections' and would OK the ballot under the 'universal suffrage' proposed for 2017. They cling to the seats, we can guess, because their economically defunct industries qualify for various government handouts, and having 5% of the votes on these rubber-stamp bodies keeps the whoops-no-fish-left-in-sea grants coming. Regina calculates that she can sacrifice support among a few aging farmers in return for the adulation of the millions of Up and Coming Youth of Today.
I'm surprised she doesn't propose a Functional Constituency seat for students in the Legislative Council. Maybe she will.
To pro-democrats of any stripe, the idea is a laughable attempt to co-opt opponents via a purely symbolic role in a corrupt rigged system they want to end, and proof that Regina doesn't come close to Getting It. To Regina herself, it is a bold and clever bid for future votes by appearing hip and groovy and in tune with the younger generation. The really scary bit: by pro-Beijing/establishment standards, it is.