Another week, another round of calls from the Hong Kong establishment for pro-democracy protesters to leave the streets. Some of the pleas come from hand-wringing moderates like Executive Council member WK Lam, desperately trying to convince the students – and probably themselves – that some sort of dialogue and push-button-for-instant-harmony solution is feasible. Some come from usually-apolitical business leaders like Swire Pacific's John Slosar, dutifully trotting out the official line with little obvious enthusiasm.
The Hong Kong government, meanwhile, helplessly bats away pro-dem proposals totally unacceptable to Beijing while promising vague progress if only the demonstrators pack their tents. To keep things on the boil, the Chinese Communist Party's United Front continues its orchestrated mouth-frothing, claiming to have collected what market analysts would style an 'aggressive' figure of 1.5 million signatures against the Occupy Central/Umbrella movement.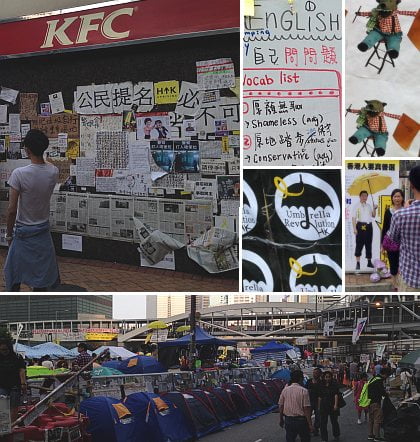 The government's tactic (or default position in the absence of one) is to wait it out and hope the tent-dwelling occupiers of the streets will finally overstay their welcome and bow to growing community hostility. As well as the hired thugs and bussed-in anti-Occupy losers, some of the great Hong Kong public are sincerely pissed off at the protestors. At the same time, many share the students' anger at the cronyism and bad governance and are supportive. (A pure guess: maybe 30-40% of the population would clearly declare themselves pro-Occupy versus 20-30% who are anti.)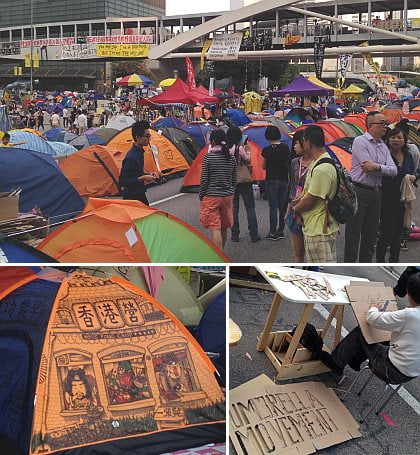 Some people's opinion of the movement might not simply reflect their views of the political and socio-economic factors, but of the methods and style of the protest. A stroll around the Admiralty encampment yesterday underlined how a genuine community with its own quirky culture has evolved in the last few weeks. Today's South China Morning Post examines the tent management, carpentry, supplies, first-aid and other facilities that keep the settlement going and forge a sense of neighbourliness among recent strangers that is all but unknown in Hong Kong.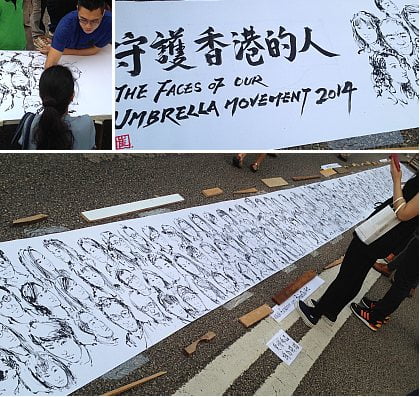 No residential or other urban area of the city is like this. It is extremely low-rise, with most dwellings being no more than 4ft tall. It is traffic-free, so you can walk and sit where you want. Most bizarrely: there is space to do things, and you don't have to pay any rent. It is this latter unique feature that largely enables the villagers young and old to express their feelings and hopes through various educational, artistic and other cultural activities. It's a fascinating experiment: what happens to a bit of Hong Kong when you take the bureaucrats and landlords (and cars) away? Answer: the flowering of a happy, creative and relaxed ambience, without a Burberry or Louis Vuitton outlet in sight, and locals and tourists love it.
Well, some locals and tourists. Not everyone gets it. To some, the fun and the novelty are an affront because of the underlying political aims, which oppose the national authorities and smack of foreign ways. Some middle-class types whose self-identity as establishment material feel a need to parrot official disapproval. Many others, I suspect, view the gentle anarchy and youthfulness of the tent village with distaste and loathing simply for what it is. They are miserable (probably old, probably little-educated) wretches who ate bitterness without complaint their whole lives and resent the idea that the next generation is able and willing to demand better. And this rather pitiful demographic could be the government's prime source of support as it tries to increase public contempt for the protesters. Sad or what?