Yesterday's hilarity was brought to us by Laura Cha, the establishment worthy who said that freed slaves in the USA had to wait 107 years for the right to vote, so the people of Hong Kong can as well. If we want to be charitable, we could point out that she also admitted to Les Echos that three administrations' inaction on growing inequality was part of the problem, adding that had been an Executive Council member all the time.
But do we want to be charitable? Or do we want to skewer these people who insult our intelligence with ignorant and offensive blather? Could it be that fairness or even-handedness towards this lady right now would be misplaced, and that for the greater good we need to show these buffoonish shoe-shiners no mercy, but cause them as much pain and embarrassment as possible?
That sounds more like it. So…
It seems that among her many positions, Laura Cha is an independent non-executive director of HSBC. She also sits on the esteemed bank's 'Nomination Committee'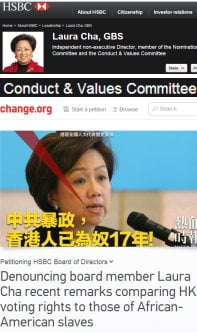 (whatever that is – not to be confused with the 1,200-strong Chief Executive Nomination Committee, on which, as a National People's Congress deputy, she would also sit). And, to make everything just positively exquisite, she is on its Conduct and Values Committee.  This sub-board aims to ensure that the company 'acts responsibly towards the community' and 'ultimately helps people to fulfil their hopes and realise their ambitions'.
How's that skewer coming along?
Anyway, some bright spark has launched an on-line petition urging HSBC to distance itself from ('denounce', indeed) Laura's distasteful and stupid remarks. It's here, and takes just seconds to sign.
You can also add comments. Hard to know where to start, but Laura's 'slave' quip reveals something about how Hong Kong's 'elite' thinks. One of the impulses behind disenfranchisement of blacks after Reconstruction was lowly southern whites' need for someone to look down on and their fear that even ex-slaves could out-compete them. Strip away the inherited wealth, the flashy chauffeur-driven cars, the sometimes questionable college degrees, the on-a-plate appointments to prestigious committees, the Gold Bauhinia Stars and the cartelized industries, and Hong Kong's ruling class includes a fair bit of mediocrity. Many of them wouldn't last five minutes on a level playing field. The clever, creative, energetic kids with umbrellas frighten them.
This doesn't necessarily apply to Ms Cha herself: for all I know she worked her way up from sweeping the floors at the Stock Exchange. I see that she went to university in Wisconsin. Not sure why – nothing personal – but my immediate reaction: cheese.
I declare the weekend open.