It's Groundhog Day! in the Hong Kong news, with every 24-hour cycle bringing the exact same stories over and over again. Most of us are surely sick to death of 'Time for Occupy Protestors to Stand Down, Says Bore'. So, how about some others?
First, there's 'Shanghai Free-Trade Zone to Become Freer and Tradier than Ever'.
For what seems like decades – though in fact it's but one year – the city that's constantly about to 'take over from Hong Kong' has been promising that its FTZ was going to become a special, world-beating commercial and financial hub. The snag is that this glorious rise to magnificence requires a freely convertible currency, and

that would require the Chinese Communist Party to pretty much give up control of the country's economy, which is probably tantamount to losing power, and so won't happen. Seriously: has any dictatorship in modern times had a freely convertible currency?
Instead the Shanghai FTZ seems an exercise in make-believe. Just as kids play at being doctors and nurses, so the mayor of Shanghai can play at being Hong Kong or New York. (Apparently, the liberalized regime in the exciting zone-hub opens up new opportunities for games console manufacturers. A comment at this link suggests that the district could host foreign high-end fashion retailers, which raises the enticing prospect of the Mainland shoppers that plague Hong Kong going there instead. In which case, I will happily take it all back and declare the Shanghai FTZ the most visionary and brilliant idea since Adam Smith.)
Another headline that appears day after day under the guise of 'news' is 'HK-Shanghai Stock Through-Train Roaring Ahead Oh Yes You Betcha'. Mmm… Shanghai again.
This seems-like-years-actually-months-old saga is essentially the FTZ story. Communist dictatorship could collapse without economic reform, but will probably collapse with it, so devises pointless measures that look superficially like reform, and hopes everyone will take it seriously and play along. Which, amazingly, they do: pontificating about this great breakthrough in liberalizing China's capital account is de rigueur among pro-Beijing shoe-shiners. The Emperor's New Clothes is not fiction.
The 'Stock Connect' arrangement allows a limited amount of cross-border trading. The key thing is that the money crossing the border remains within a sealed system. So the Yuan being used to buy Hong Kong-listed shares comes down here in an airtight tube, sits in the currency equivalent of a locked hotel room for a while, staring out the window at the Free World, before going back home in the tube to settle a 'sell' order.
If you wanted to give Mainland and overseas investors access to each other's markets, you could easily do it through developing the cross-border exchange traded funds that already exist, maybe using something like American Depository Receipts – assuming they haven't already done so. But that would be too easy, and it wouldn't look superficially like a relaxation of capital controls. We need something complex so it looks like reform.
It seems the exchanges keep postponing the thing because it was rushed and the Hong Kong and Mainland tax and technical systems are so different. To show how deranged people get when suffering the delusion that a real reform is underway, apparently sane commentators suggest that the delay is to 'punish' Hong Kong for Occupy Central.
'News' should mean 'stuff we didn't already know'. But all three of these headlines will no doubt be in tomorrow's papers again.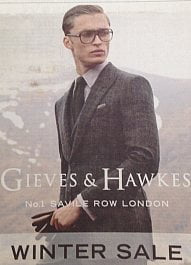 Glancing across the Business Post's pages from today's Stock Connect story, I do find something I haven't seen before: an ad for clothes of no use in Hong Kong, featuring what can only be described as a disturbingly repellent, cruel, wallowing-in-depravity-looking individual. Why do they always choose the creepiest models who look, in this case (you really need to see it up close), like they sodomize underage goats in cellars?
Which brings us rather neatly to this: Hong Kong is a tropical island masquerading as a legitimate city. And there we all were thinking it was the other way round. Try counting the errors, falsehoods, clichés, wild exaggerations and anachronisms in this grubby, if readable, blatantly exploitative pap. Whether investment bankers still behave this way (if they ever did), I really don't know – I wouldn't use one to wipe my nose with. But this latter-day Suzie Wong fantasy doesn't describe any city I know. Still, at least it's different.