'Spinning out of control?' asks the South China Morning Post about the protests in Mongkok. Demonstrators repeatedly block intersections with barriers and the police repeatedly try to remove them, creating a cycle of anger and violence with no end – either in the sense of a purpose or a conclusion. So the answer is obviously 'yes'.
The question should be: who has lost control? Another way to put it is to ask: who is supposed to be in control in the first place? Someone, after all, is supposed to be steering the ship – or as the ancient Greeks said, 'kubernao'.

Chief Executive CY Leung went on TV last night and blamed 'foreign forces' for influencing the pro-democracy movement, though he also said the movement had become 'out of control'. So the mysterious foreign forces aren't in charge, but nor is he. The Hong Kong administration admits that it is not exercising power (in parts of Mongkok, at least), which sounds like a serious admission of failure. But the good news is that foreigners aren't running things there either now. Which sort of makes it OK.
CY has to blame external malevolence because Beijing officials have already done so, and they would lose face if he fails to agree. The Chinese Communist Party is perfect, so if anything goes wrong it must be the fault of hostile forces, which are invariably based overseas. CY has a simple choice: point the finger at big bad foreign forces, or be openly disloyal to the Party; if the Communist leadership said the world was flat, he and Hong Kong's other devout followers of this quasi-religion would repeat it as a fact. From his and Beijing's point of view, Hong Kong people's refusal to convert to this faith is the problem. From Hong Kong's point of view, the leadership's inability even to begin accepting responsibility is the problem. You can see how wonderfully productive tomorrow's government-student talks are going to be.
To regain a shred of credibility, the government needs to find evidence of malicious foreign influence over the protests. Where to start? Part of the government complex at Tamar has been covered with messages about peace, love and freedom, and named the 'John Lennon wall' after a native of Liverpool, England. A senior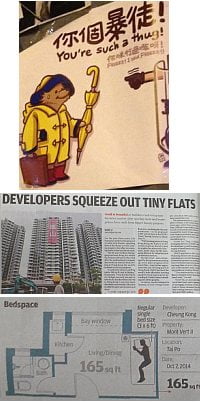 police officer spoke to the press a few days ago wearing a colonial-era badge on her cap; to compound the crime, she called the item a 'souvenir'. A poster at Admiralty promoting non-violence features Paddington Bear, who is known to be from Peru. And – the elephant in the room – have you noticed that in Hong Kong the vehicles drive on the left, just as they do in the UK?
As for specific details of foreign interference, we will have to make some educated guesses. If I were in charge of the international Western plot to prevent China from rising, I would create civil unrest in Hong Kong like this…
First, get the CIA to infiltrate the bureaucracy and property developers to undermine the land and housing system in such a way that people have no choice but to live in 165-sq-ft apartments that cost some seven times median household income. If that doesn't get people rioting, what will?
Then I would use Vatican-Kuomintang-Dalai Lama splittist elements to organize mass-scale movement of Mainland shopper-tourists into Hong Kong to swamp the public transport, drive rents up and shut down locally oriented retailing. Streets full of gold shops and nowhere to buy noodles – guaranteed to piss off the populace.
As a cunning extra touch, I would get MI6 to recruit double agents in Hong Kong law enforcement and prosecutors departments, and persuade them to implement the law selectively, so 17-year-old student activists and a guy writing stuff on the Internet get arrested, but police who kick a handcuffed prisoner don't, and decisions to chase and prosecute computer hackers depend on the political views of the victims. You'd be surprised how sensitive the public get when the law is applied unfairly like that.
This is just scratching the surface. Look around you. These evil foreign plotters are everywhere, and their plans are working.