In a reversal from an unwise and counterproductive decision a week ago, the Hong Kong government announces a willingness to hold talks with pro-democracy
students. The two sides still need to solve massive problems like where to get together, for which they need the services of an intermediary – possibly a university head, or maybe the United Nations or Jimmy Carter.
Students claim it is impossible for the government to plan talks and dismantle Occupy Central protest sites simultaneously, though the re-opening of some roads in Mongkok suggests that this is not so. The government warns that it is impossible for the discussions (or anything) to change Beijing's position on electoral arrangements for 2016-17, which is probably true but raises the question of what the gathering is for. The only thing they agree on is the need for complete intransigence. Perhaps the CY Leung administration will seek hints from the group of 17-year-olds on image management and in particular how to match the kids' air of legitimacy, authority and confidence.
It seems fairly safe to predict that the meeting will either a) ultimately not take place or b) finish in seconds when someone storms out in a huff. In fact, that will be the rule of the game: first one to walk out in a huff loses. Handled badly enough, it could rejuvenate the Occupy Central sit-ins for another week.
I declare the weekend open with historic proof that Hong Kong is not the first place in the world where umbrellas played a key role in the fight for universal suffrage (women demanding the vote in the UK circa 1910) …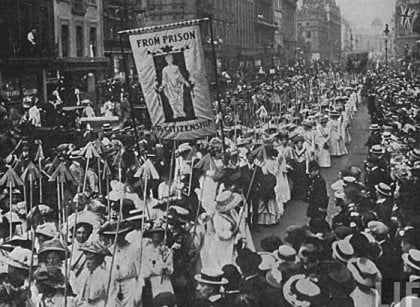 (OK, so they're not umbrellas.)