After being repelled by protestors the first time round, police last night took control of Lung Wo Road – the strip linking Central and Admiralty that starts with the much-photographed skateboarders' tunnel…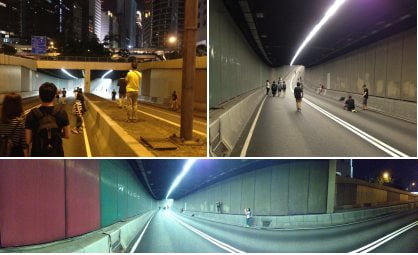 …now sadly returned to vehicular traffic. This follows firm action yesterday to remove barricades and reclaim road space from the pro-democracy Occupy Central crowds. The cops didn't spare the pepper spray – liberally smothering reporters and activists alike with the stuff – and were filmed taking a guy in handcuffs round the corner for a kicking. (Police report being poked in the eyes with umbrellas among other things.) Though hardly Rodney King, this is shocking by Hong Kong standards, and highlights the way Beijing's disastrous handling of local affairs is tearing the community apart.
The immediate mess still has some way to go. There was talk of some sort of anti-Occupy delivery drivers/United Front /'logistics' procession of trucks taking place today – not sure if it's going ahead. The protestors still blocking streets, notably in Mongkok, may prove particularly unwilling to leave peacefully. Beijing is making it clear that the reform package (remember the reform package?) is the only one on offer, thus tying the Hong Kong administration's hands. As an almost inane sideshow, the latest (presumably leaked) details about Chief Executive CY Leung's DTZ business deal could be interpreted as suggesting that he shafted other stakeholders in no uncertain terms, not that there's necessarily any law against it.
CY, his Chief Secretary Carrie Lam and a few other officials are taking an inordinate amount of heat right now. That's partly because of their incompetence and because
it's their hapless lot to do the bidding of a Chinese government that – reading between the lines – seems to treat them as contemptuously as it treats the other 7 million of us. But it's also because many of their fellow members of Hong Kong's establishment are mysteriously, all of a sudden, nowhere to be seen.
Keeping their heads down at this time is smart. Not one but two op-ed articles in today's South China Morning Post address the role of the Big Lychee's tycoon-'elite' in creating and prolonging the social ills now apparently coming to a head. Ever-quotable economist Andy Xie pins the blame squarely on the parasitical pyramid-scheme scam that passes for the city's private residential property market. Another writer looks at Beijing's unfortunate strategy of favouring a few families of landlords and inherited wealth over the interests of the aforementioned 7 million; it's pretty scanty, but hey – it's in a newspaper owned by one of the tycoons.
Our plutocrat-bureaucrat ruling caste may console themselves with the thought that when the protestors have finally gone home, Hong Kong's pro-democracy camp will be at least as divided as it has ever been. It will therefore fail to take the opportunity to turn its sights on the feudal nature of the system and launch Occupy Park N Shop to skewer the rent-seekers and the rulers here and in Beijing who feel this curious need to protect them.
I have a nasty feeling that they are right. But then, this whole story of political reform/Occupy Central is one of arrogant and inept holders of power repeatedly provoking citizens into doing amazing things no-one ever saw coming. The best could be yet to come.