Hong Kong's fight for democracy and good governance descends into a war of attrition between police and protestors over street barricades. To the government, removal of pro-democracy occupiers' barriers is an important symbol of power – a reassertion of manhood after the humiliation of losing control of three major roadways to homework-wielding schoolgirls (among others). To the protestors, it seems like a last stand:  once they pack up and go, they reason, they have nothing left.
Hong Kong's authorities, after no doubt being egged on by no-nonsense Beijing officials, have learnt the hard way that getting tough against the occupiers simply provokes a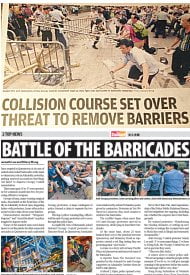 backlash and greater resistance. But the only alternative they can think of is doing nothing – and that's not an option. So the latest tactic is to get tough mildly, by dismantling barriers at the fringes of occupied zones and re-opening a few lanes to traffic, as if to create an air and expectation of a calm return to normal.
But a third force is seeing this as a green light to come along and join in. Hired thugs, triads and mouth-frothing angry uncles have turned up to hasten the clearances. From where the protestors are standing, it seems these belligerent and even violent intruders have the blessing of the police or government. Beijing functionaries might be giving tacit encouragement to organizers, but it's hard to credit even this government with being so desperate and stupid as to call in – that is, to depend upon – mercenary henchmen.
The counter-protestors do not help the government or the cops. Their obnoxiousness simply provokes yet more backlash, such as yesterday's creation by sympathetic construction workers of larger and more complex barricades. And they are not all paid stooges: an awkward truth for the youthful protestors is that there is a sub-culture of their fellow citizens who sincerely and deeply hate them. These detractors are particularly incensed by what they see as police favouritism towards the pro-dem kids, such as letting them close streets for weeks. Their logic is that they are resisting intimidation, not dishing it out.
The thugs are losers and beside the point. Both the government and the pan-democrats should be raising their sights from the streets.
Does anyone in the administration have the imagination to try to reassert control not simply of roads but of events? The government needs to shock and surprise the community with some big and positive announcements. Not just the hackneyed resignation of Chief Executive CY Leung, but attention-grabbing and radical policy – overhauled expenditure priorities, fairer access to education/healthcare and cuts in Mainland shopper arrivals are just a few possibilities. But the answer to the question is probably 'no', so it's irrelevant.
Can the pro-democrats decide what to do next to keep the pressure on and – crucially – maintain and increase the public support that government is too incompetent to attract? Considering that opinion polls routinely show that few think Beijing will make concessions on political reform, the focus on universal suffrage has served surprisingly well. But they need more. Declaring war on tycoons and cartels through consumer boycotts and protests would be a great way to force the Hong Kong and Beijing leaders to openly choose between siding with privilege or the people.
This is a struggle for public opinion, not barricades.