Every media outlet in Hong Kong starts the day with it: the Occupy Central protest is entering its third week. We take it for granted now, but it wasn't supposed to be this way. The core business district itself remains unaffected, save for traffic diversions that have made the area less crowded, noisy and polluted. After all the branding and other plans, the actual sit-ins sprung up spontaneously elsewhere.
They have taken root. The main one surrounds the government complex at Tamar. It has become a bohemian tent city with food and water depots, shower stalls, first-aid stations, lectures, art displays, shelves of books, and – perhaps strangest of all – an open-air study room with kids doing homework at rows of well-lit desks. Over the harbour in what the overseas reporters are required to call gritty Mongkok, the Umbrella Uprising is more proletarian. Chain-smoking tattooed protestors with dyed hair and bling fight with local gangsters and copulate in the dark under flyovers (probably), while their more contemplative comrades worship at religious shrines. Then there's a smaller settlement in Causeway Bay that I haven't checked out.
Those of us who felt that after a euphoric week or 10 days it would make sense for the occupiers to withdraw have learnt to shut up. Only perpetual hand-wringers and bleaters still bother to call for the kids to pack up and go home, point made. What's the betting they will still be there, strumming guitars and offering help with English assignments, at Christmas? At most, protestors seem to be consolidating their holdings of street acreage, as if to make themselves more comfortable. The police are taking the opportunity to reopen a few roads that probably didn't need to be closed in the first place; for a while this morning, the kids thought the Big Clear-Out was about to happen, complete with tear gas, but it seems the cops just wanted some of their metal barriers back…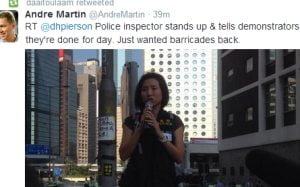 As always in Hong Kong, it is essential not to step back and look at the big picture; instead we must zoom in and get obsessed with the micro-issue. What was supposed to be about freedom, social justice, good governance, political reform and a – let's say 'unique' – Communist-compatible semi-universal suffrage is now about kids in tents on streets. Nothing else matters. Businessmen wanting to shoe-shine the government need only bemoan the appalling economic cost of the road closures, and the press will dutifully spread the word. Pro-dems are not naturally gifted when it comes to countering this sort of criticism (hint: if you want something that damages the economy, try the high-land-price policy). And Chief Executive CY Leung declares the protests 'out of control'. I suppose this is basically true in the sense that the participants are totally oblivious to what he thinks or wants.
This is the first time in ages that he has emerged from his bunker for a press interview. The main result of this has been to piss off the rest of the media for gracing TVB alone with the opportunity (a basic PR blunder). To Hongkongers, he and Chief Secretary Carrie Lam abdicated their responsibility to the city by taking off for some wretched-sounding Pan-Pearl River Delta Partnership Horsecrap Blah-Blah thing in Guangzhou over the weekend. But apparently, the Mainland participants felt the same way, with someone from Jiangxi Province complaining about the Hong Kong officials' eagerness to skip the trade waffle and get back home. (OK, I had to look it

up – like Carrie, I bet. Apparently, it has a border with Guangdong. And to think we never even knew it was there…)
It is left to Legislative Council President Tsang Yok-sing to remind us all that this is about potentially big things, starting with electoral methods and an attempt to cram a democratic process into the space allowed by a one-party state. It might be grasping at straws, and most people blank out when the conversation turns to the Nominating Committee, but his point is that the pre-selection phase of the process offers a chance for pro-dems or other non-stooge life-forms to get into everyone's face and opinion polls. While it won't impress the activists, it's the sort of argument that – if put in plain, non-technical language – could persuade the undecideds and don't cares and conceivably save Beijing's reform package. But few establishment figures have the wit to push the nearest thing the package has to a bright side. From grim-faced Beijing officials and CY down, it's a fight to the death against kids in tents.