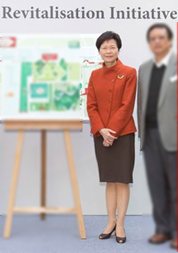 One minute the Hong Kong government is making a big show out of planning to sit down with pro-democracy student protestors for some sort of deep and meaningful 'dialogue'; the next minute, officials are making a big show of cancelling the talks on the grounds that the students have threatened to bolster their ever-so illegal sit-ins if the discussions don't lead to big concessions over political reform. Since Beijing won't permit any serious concessions, the government was faced with a choice: meet the students, and then see more kids come out and occupy the streets, or don't meet the students, and then see more kids come out and occupy the streets.
There was nothing to lose by giving the students a bit of face and listening to their demands. If handled cleverly (fat chance, but still…) the meeting could even have been an opportunity for the government to recover some credibility after its dismal handling of events. For example, officials could concede that past and present policy errors have created anger and need to be reversed, and they could employ refreshingly honest, less coded language to explain Beijing's quandary in allowing part of the one-party state any form of universal suffrage. Instead, Chief Secretary Carrie Lam chose to counter childish petulance with more childish petulance.
What were officials thinking? An observer can't even detect what their intention was. Were they looking for an excuse not to meet with the students? Did they imagine
that high-minded principles about the legality of sit-ins and the inconvenience to the public would propel them onto the moral high ground and boost their popularity? Or were they deliberately trying to re-energize the Occupy-Umbrella movement as it loses momentum – just like the last time and the time before that?
The incoherence suggests that more than one person is in charge. Perhaps a no-nonsense Beijing cadre who specializes in crushing evil forces attempting to overthrow the state had been up in Shenzhen for a few days and returned just in time to overrule this namby-pamby be-nice-to-the-kids stuff and get Hong Kong officials back onto the correct path of bludgeoning and smiting, or at least demonizing, the protestors.
So, once again, just as it's looking best for the last activists on the streets to pack up and go home before it gets embarrassing, the government manages to find a way to inject a bit of new life into the movement, assuming a few thousand more turn up at Admiralty tonight. And our obsessive-compulsive leaders, egged on by paranoid Beijing minders, will get even more fixated on the Great Battle of the Barriers and Intersections – The Government versus The 17-Year-Olds – as the most important challenge in the universe today, while issues like political reform or a society more unequal than Rwanda just sit unnoticed and gathering dust.
When we look back at all this one day and laugh (OK, if…), we might see this not so much as a clash between government and protesters, but between Mainland and Hong Kong styles of political and civil authority. From the fake consultation on reform, to the White Paper, to the United Front intimidation, to heavy handed police action, this whole mess is an example of what happens when Communist approaches to control and the crushing of opposition are tried in a free and pluralistic society: it doesn't work, and it's counterproductive.
I declare the weekend open…