Into the midst of the weirdness,  Robert Chow returns. The representative of the 'Silent Majority' and founder of the anti-Occupy Central 'Alliance for Peace and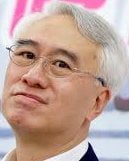 Democracy' was interviewed on RTHK this morning. At his height as a scourge of pro-democracy activists, the snowy haired rabble-rouser spread apocalyptic visions of Hong Kong in chaos, and pushed a vast United Front anti-OC signature campaign against the evils of civil disobedience. The delights of demagoguery went to his head, however, and he launched an informers' hotline for people to snitch on schools planning to facilitate student involvement in pro-democracy protests. Taken aback by the public revulsion, he disappeared from view – perhaps retreating into a cave where he could pull the wings off butterflies in peace.
His reappearance (briefly mentioned by a Standard editor desperate for another half-dozen lines) reveals him to be a broken man. Apparently grief-stricken at the thought that the 'Silent Majority' turned up a couple of nights ago and took Argyle Street and Nathan Road, he railed at how the Occupy organizers never mentioned Mongkok in their plans, and they should get out of there and move to Central, as the campaign's name would seem to require. He is mightily miffed about this, as if the devious pro-dems have somehow cheated by occupying Admiralty, Causeway Bay and mid-Kowloon. Getting even more sorely vexed, he ranted that maybe the protestors have had their fun and games, but what happens next?
That is, of course, a fair question.
So far, the Students/Occupy protests have achieved four major policy aims that have defeated Hong Kong governments for years:
Firm action to tackle obesity, as striking Swire Bottlers staff bring production of Coca-Cola to a standstill;
A solution to municipal waste problems, as protestors on the street spontaneously figure out a way to get everyone to recycle trash, using bags hanging from railings;
A glorious fall in the number of Mainland visitors, and negative sales growth for retailers selling overpriced crap no-one needs; and last but not least…
A very noticeable improvement in air quality in traffic-free streets.
The government has also cancelled the National Day fireworks display. Maybe officials felt the event would be provocative, as the space-age pyrotechnics were to feature the words 'Chinese people' in simplified characters. Or perhaps the idea is to disappoint millions of innocent children looking forward to the show, and hope the blame gets shifted onto Occupy central as some sort of punishment. Or both. Or maybe Carrie Lam was having a bad hair day.
Not least, the demonstrations and sit-ins have yielded iconic photography and inspired a range of intriguing art and assorted meme-stuff. The stand-out is from here. My own humble contribution is intended for Beijing's Liaison Office to fly on October 1…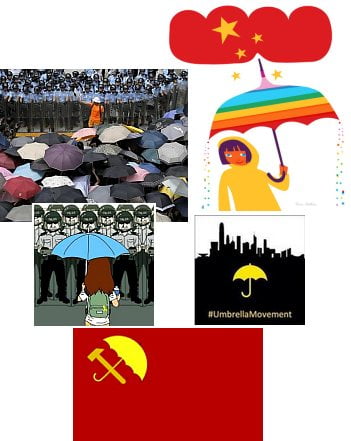 But back to Robert Chow's question: what next? The occupation-of-intersections thing has presumably peaked; people need to go to work, or go home for a shower and a good night's sleep. There's probably no point in sitting in the street over the public holidays, even if that was the Occupy Central plan up to last weekend. Organizer Benny Tai and friends are devising a 'second phase' of action – a bit optimistically, perhaps, given that the first phase was unscripted and ad-hoc, and they had to run to keep up.
While demands that Beijing cease being Communist are pointless, a lull in Occupy activity could be a good opportunity to put the Hong Kong government on the spot with a simple request for a constructive response to recent events. People are clearly unhappy: let's hear a proposal by next weekend on how to move forward. Or it's back to streets.
The South China Morning Post's Peter Kammerer writes that there are better ways for the people to make their voices heard than taking to those streets. Of course there aren't – we had mass protests over Article 23 and National Education precisely because it's all the government listens to. The columnist's alternative is that people be good citizens, look after their families and… have "exercise and good habits."

Maybe the SCMP are getting into this.
I declare the two-day mid-week holiday open with an alternative view. This is a real extract from an email from a former Hong Kong resident now overseas…
Fanaticism has never been the answer to anything, but the so-called Pan Democrats of Hong Kong and now the young radicals of Hong Kong are perfectly willing to lead Hong kong and China into chaos with THEIR new brand of fanaticism, their new magic crede, answer for everything, their new IDOL. You new fanatics, who are now willing to destroy anything that is contrary to your views, you are EXACTLY the same species as the Red Guards who only a few decades ago were willing to destroy much of China's heritage and kill millions for precisely the OPPOSITE views that you are agitating for in Hong Kong now. Opposite views, same species. THEY and YOU were/are BOTH so absolutely certain you are right about everything and that you can/must have it NOW, that you will do anything to get your way. You will trample over the lives and livelihoods of all the other people in Hong Kong, because ONLY YOU are right. You would not care if China were again enveloped in another two decades of chaos such as it previously experienced when order broke down – just so long as you can get your way. You, in parallel societies, are the young fanatical suicide bombers and terrorists of the world, you are Pol Pot's fanatical youth who killed millions because they also KNEW they were RIGHT and had to have their way NOW, you are the Hitler Youth who were prepared to assist the Holocaust because THEY also knew they were so truly RIGHT.

This is the kind of fanaticism that starts by saying it can ride roughshod over people's lives and livelihoods – because YOU know better and YOU are RIGHT.
There is more. Almost makes you glad to have Robert Chow back.