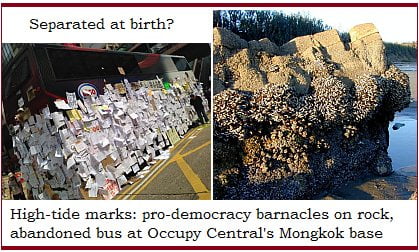 A sure sign a news story has peaked: it's on the front page of Time. After heavy-handed police action backfired, the Hong Kong government's strategy towards the pro-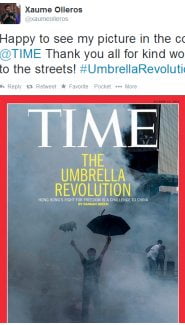 democracy Occupy Central protests has been to sit there reciting idiotic Lines to Take and looking stupid until people eventually go back to work/school/home. When demonstrators get bogged down with details like whether the cops used an ambulance to smuggle supplies and give the authorities chances to portray them in a bad light, that time may be approaching.
But the movement still has pain to inflict. Students yesterday modestly demanded that Chief Executive CY Leung stand down by midnight. Rather than have himself photographed in his pajamas pointedly putting his bedside light out at 11.15pm – the correct response – he did them the honour of holding a press conference at the appointed time, complete with a peace offering in the form of a meeting with Chief Secretary Carrie Lam.
It is hard to see how CY's resignation would achieve much – unless Beijing parachuted in a popular and capable leader (assuming one exists) as a replacement. But then it's hard to see any way for Beijing and the local administration to reestablish some semblance of credibility and legitimacy anytime soon. In 2003, the people of Hong Kong gave their government an almighty kick up the backside, from which it has never completely recovered. This time, they grabbed the government by the neck and rubbed its nose in the dirt, over and over and over for a week, in full view of the world's media. It has been such total humiliation that the latest outbursts from CY's psycho-daughter hardly register. And people won't forget that occupying intersections is easy and effective and satisfying.
Do Carrie Lam, or CY, or – more to the point – Beijing have what it takes to analyze what the Basic Law calls 'the actual situation' in Hong Kong? They could do worse than read Nicholas Bequelin in Foreign Policy…
…since the 1997 handover, the Hong Kong government has failed to do what the CCP has been so adept at since the bloody suppression of the 1989 Tiananmen Square democracy movement: respond to social demands before they turn into political ones.

As a result, long accumulated frustrations about local governance in Hong Kong have crystalized into demands for something that Beijing never intended to give: genuine democracy.
The way out is for the decision-makers to accept two things. First, that an artificially inequitable and distorted socio-economic system – government-for-tycoons/screw-the-rest, in short – makes Hong Kong permanently tense and aggrieved. Second, that perceived threats to Hong Kong's freedoms and rule of law act as a spark to ignite this permanent frustration and get people out onto the streets. Make it clear that you are going to ditch the tycoons and stop messing around with press intimidation and political arrests, and you will have a calm and relaxed city. Electoral reforms for 2016-17 will go back to being a sideshow.
The problem is that the social problems and authoritarian tactics are both Beijing's doing. As the muttering about evil foreign forces masterminding the unrest suggests, Chinese officials probably know full well that their post-1997 approach to controlling Hong Kong and their recent tactics to counter local opposition have failed dismally. But the idea of the Chinese Communist Party being man enough to admit making mistakes is a bit of a stretch.
On the subject of mistakes, I declare the weekend open with a different story altogether. My spontaneous reaction on reading the headline was to splutter 'get a life'…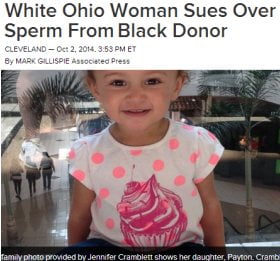 …but of course that's what she was doing, right? Anyway,good news: the guy wasn't Robert Mugabe.