Robert Chow presumably founded the Alliance for Peace and Democracy as an exercise in toadying. It was then swept up in Beijing officials' over-organized and absurd campaign against the pro-democracy Occupy Central movement. It clumsily presents itself as worried to death about the horrible harm radical pan-dem extremists will do to innocent businesses, our civic reputation, children, bunny rabbits and people waiting for ambulances. And it has now launched a hotline on which the public can inform on schools where students/teachers are planning class boycotts.

'White terror!' pan-dems predictably claim. 'White-haired slimeball' would be more like it. The Alliance has worked hard on image here, with at least half the people at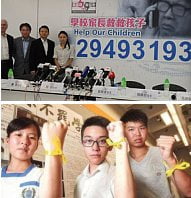 the press conference looking roughly normal (hired from a casting agency, perhaps). Chow, as usual, looks like a TV toothpaste-commercial dentist. But still, some of his companions have those grim, sour faces that for some reason bring to mind a world of spittoons and antimacassars.
Benny Tai and the other Occupy/pan-dem leaders might not always 'resonate'. But only Beijing's local emissaries at the Liaison Office could seriously imagine that the Hong Kong public would be favourably impressed by the spooky-sounding snitch hotline. The 'Help Our Children' initiative is more likely to help the young pan-dem radicals of Scholarism. Just when the kids are getting insufferably full of themselves, and the class-boycott plan is looking a bit pretentious, along comes this rabble of toadies trying to bully them with a half-baked, sub-Cultural Revolution stunt. Obviously, most right-thinking people's response will be 'yuck'. The United Front is supposed to split the broad pro-democracy community; if anything, they bring everyone together in shared mirth, contempt or even disgust.
Still, Creep of the Year Award is in the bag.