The HK Economic Journal's EJInsight compiles a bewildering array of spurious reasons Chinese officials and supporters have come up with to explain why Hong Kong must have a rigged nomination system for the 2017 Chief Executive election. It goes without saying that none of them are very convincing; some are at the dog-ate-my-homework level. What is interesting is that, even allowing for the fact that they are quoted out of any context, the speakers produce such a mishmash of justifications. At least six of the 10, being serving office-holders, should have had a common script to read from.
Perhaps Beijing's attitude is that the communication experts are wrong, and the bigger the number of reasons, the clearer and more effective the message will be (UK Prime Minister Tony Blair did the same when he produced at least four or five justifications for going to war in Iraq). It certainly suggests that Chinese officialdom will say almost anything to deny the simple honest truth: the Communist one-party state cannot and will not yield control. (EJInsight is probably being generous when it says: "[Beijing] has no confidence that the pro-establishment camp will win in an open and fair election in 2017." The Leninist system doesn't accommodate even a slight possibility of a rival running against it.)
The pro-democrats go along with this. Beijing sets out non-reasons why we can't have full democracy; the pro-dems painstakingly pull the non-reasons apart and rebut them. Everyone seems to have an interest in not admitting the fundamental truth about the nature of a one-party state – Beijing to maintain the fiction it has a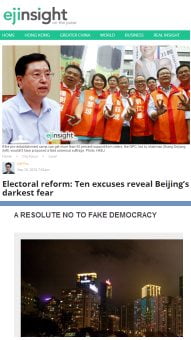 constitution like other civilized nations, and the pro-dems to maintain the fiction that their long and noble struggle is winnable.
Another possible reason why the Chinese government does not enforce a more coherent 'line to take' among its spokesmen is that it doesn't care. It will prevail anyway, so who gives a damn what reason you give for rigging the system?
The pro-dems, and Occupy Central in particular, have worked on the assumption that there is a way to stop Beijing from prevailing. For long decades, they used logical, moral and legalistic argument and plenty of protest marches – to little effect. More recently, they have turned to the more methodical approach of threatened non-violent civil disobedience. Beijing's recent take-it-or-leave-it announcement of a rigged nomination system for 2017 leaves that idea a non-starter save as a symbolic gesture.
The next step will be to veto the reform package in the Legislative Council next year and thus leave us with the existing system. Their reasons why this would achieve something positive for Hong Kong (as opposed to pro-dems' self-esteem) could be worthy of another EJInsight piece. One is that the 'fake democracy' on offer is worse than the status quo as it somehow cements Hong Kong into more of a Mainland system. This is a bit of a stretch: almost anything will be at least a slight improvement on the failed current system. It's another excuse to avoid facing reality.
(The reality, lest we forget, is: law, media and other institutions that need protecting; oppressive cartels and bureaucrats that need attacking; schools, housing and air that need improving; and all the other injustices and inequality. A weak, defeated, divided pro-dem camp will be of little use in the years ahead.)