Like the city itself, Hong Kong's news channels are so crammed full of stuff happening today that it seems they're about to burst.
Activists who hate broadcaster TVB plead with viewers to switch off their televisions to bring the station's ratings down during its anniversary gala show, while a charity standing to benefit from TVB sponsorship asks its staff specially to tune in. We can presume that anyone needing to be told not to watch would have preferred to see the programme, while those having to be urged to sit and stare at the mindless tedium would have preferred to be doing something else. If all concerned did as requested (a big if), the net result would have been an overall increase in human unhappiness, and probably no meaningful change to TVB's ratings.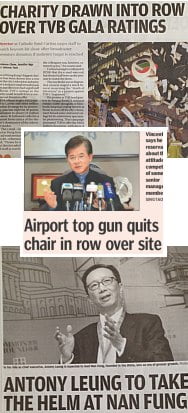 Quote of the day, incidentally, must be from a Ms Lee, who tells the Standard: "Watching [TVB] makes people silly."
Over at the Airport Authority, some sort of mega-tiff breaks out between chairman and ex-KPMG boss Marvin Cheung and sub-committee chairman and second-tier property tycoon Vincent Lo about whether to use a site for a transit system for a third runway or a shopping mall for tourists. I always thought these great and good were appointed to these statutory bodies as a pat on the head while technocrats made actual decisions, but it seems some can't resist meddling. Marvin is one of the tycoon-bureaucrat elite that thrived under former Chief Executive Donald Tsang, while Vincent went rogue and supports CY Leung, so we are invited to believe that this squabble is political, though it looks more like a couple of schoolgirls tearing each other's hair out over some tittle-tattle.
Note how the Standard, which would instinctively shoe-shine both men without thinking, handles this in its editorial: with great even-handed earnestness, as if the world gives a damn about these puffed-up bores. Most right-thinking people will take a plague-on-both-houses approach. We don't want another runway – it just means more people, for heaven's sake. And we don't want another shopping mall either. So just leave it as it is. Sounds good until you realize… the site's currently a golf course.
Flicking over the page, what do we find but the cherubic features of Antony Leung, former Financial Secretary and then Greater China Chairman of private equity giant Blackstone. He has joined privately held property developer Nan Fung, who are presumably infatuated with his Mainland connections, figure-skating wife, or some such. The South China Morning Post regales us with details about the real-estate company and gently reminds us of Leung's Lexus-related problems all those years ago (which seem almost quaint compared with today's gory mayhem).
The Standard goes one better, suggesting that Leung might team up with Legislative Council President Tsang Yok-sing in a bid for Chief Executive in 2017. Its source is a certain Bastille Post website, which as they say is 30% owned by parent Sing Tao group. What they don't mention (though they have alluded to it) is that the other 70% is owned by a Sing Tao executive director and outgoing CEO, Lo Wing-hung – so it's their own JV they're citing. Either they're really proud of getting a major scoop before the new site is barely started, or they're inventing zany fictitious stories to hype it up. Time will tell, though the idea of a Tsang Yok-sing/Antony Leung ticket sounds about as likely as… a charity telling its staff to watch pap on TV. Or maybe Sing Tao are part of a nascent Tsang/Leung/et al alliance, though that sounds too stomach-churning for words. (Any chance of Ms Lee running?)
Finally, one or two eagle-eyed types noticed that the list of scholarship awardees that featured Chief Secretary Carrie Lam's son also mentioned one Dickson Pearson Guanda Poon. Despite a series of prominent and nubile wives, luxury retail tycoon Dickson Poon has no children, so we can rule that out. If anyone finds (can be bothered to find) a link, however, they might like to note that Friends of Cambridge founder and Bank of East Asia boss David Li's wife Penny is… the Harvey Nichols Dickson's sister. Small world.