It is probably true, and sad, that few people in Hong Kong believe that anyone wealthy and/or influential would do something out of the kindness of their heart or for the public good. Finely honed instinct leads us to presume something fishy is going on. A fondness for sport and entertainment then demands that we find out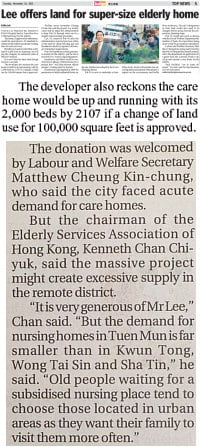 what it is. Today, we have two examples (plus a special, no-extra-charge, free-gift bonus semi-quasi-one tacked on at the end).
First: Lee Sau-kee, octogenarian boss of Henderson Land. After attempting to donate some real estate for affordable (not to say miniature) housing, he proposes dedicating it to a different cause: an extensive home for the elderly. The Standard's story lavishes praise on the old billionaire's generosity (and prints 2107 as the target date, which going by past experience looks about the right amount of time to clear all the Lands Department and other red tape). The SCMP quotes an NGO official who manages to find fault with the badly needed facility's location.
When Lee tried offering subsidized apartments for the young, everyone pounced on him. The suspicion was that he wanted the government to provide roads, water and sewers that would boost the value of his other undeveloped holdings nearby. Even the administration found the idea of a property tycoon giving something away too unnerving to consider. The old folks' home concept seems less likely to set off conflict-of-interest alarm bells and so may get a warmer reception.
With Li Ka-shing currently (and of course allegedly) constructing a mausoleum-type monstrosity for himself in the New Territories, we can quite possibly give Lee Shau-kee the benefit of the doubt. His motives are probably not grasping and materialist at all, but are all about his legacy and memorial (remember, this is the guy whose son acquired designer test-tube triplet boys to help keep the line going).
It was Henderson Land that brought us the 39 Conduit Road saga, which marked the tipping point in 2009 when Hong Kong's long-suffering populace finally lost patience with the city's property barons. Lee always seemed slightly less impervious to public opinion than the other cartel members, and (as SCMP columnist Shirley Yam suggested earlier this year), appears increasingly concerned that we will be lining up to spit on his grave before long.
Whether such a gesture would warrant a last-minute rewriting of Uncle Four's history from that of a demon to an angel isn't the point. Many would shrug and say "too little, too late." But it is reasonable to suppose that his conscience, or at least vanity, is causing him a bit of agonizing in his twilight years. No need to pass the Kleenex.
Second: Tsang Yok-sing, one-time boss of the Democratic Alliance for the Betterment Etc of HK, and thus leading light in the Chinese Communist Party's local United Front, as well as President of the Legislative Council. Faced with a dispute between the former Chief Justice and a Beijing official about whether Hong Kong has an independent judicial branch, he goes with the former. He was also quoted by RTHK today speaking at some length about how everyone, pro-dem and pro-Beijing, loves Hong Kong and the motherland, and no-one is plotting with foreigners.
I have long been fascinated by the psychology of Hong Kong's Communist faithful. It really is like a religion: they are born into it, brought up within it, and they cling to the faith in the face of constant testing and torment from the disbelieving and frequently hostile outsiders. They are allowed no independent thought, having instead to recite the latest mantra from on high, regardless of how illogical or inconsistent it is. And the God they worship shows no love, let alone mercy: it will cast them aside without a second thought, as happened in 2005, when Beijing spat in local patriots' faces by appointing colonial running dog Donald Tsang as Chief Executive.
Tsang Yok-sing has long been fairly personable in comparison with some of the hate-filled mouth-frothers who inhabit the hard ideological wing of the pro-Beijing camp. Indeed, he has shown signs of being a normal person, most memorably when it was revealed that his wife had obtained a Canadian passport before 1997 just like any other bourgeois counter-revolutionary capitalist-roader. Earlier this year, he began complaining that the Executive Council had gone downhill since the handover.
So far as we know he has many years to go, so he can't be too worried about his immortal legacy. He has also denied wanting the job of Chief Executive (although he wouldn't say otherwise even if he lusts after the position). It could be that somewhere up there in the Chinese government and party hierarchies there is a split on whether Hong Kong at this point needs carrot or stick to bring it under control, and Tsang is stoutly urging the former. Or maybe, like some other devout religious types

over time, doubts are creeping in.
Which bring us to this little bonus: I have received word that Chief Secretary Carrie Lam's son Jeremy (mentioned yesterday) was a lucky recipient of a non-means-tested GBP4,500 scholarship award doled out by the local 'Friends of Cambridge', a group founded by David Li, boss of the Bank of East Asia. No need to root around for grubby conflicts of interest – yet. Just cut out and keep in case Carrie becomes Chief Executive sometime.