Beijing indulges in a bit of unseemly backtracking. China's government has second – and you can't help thinking cynical, clumsy, let's-do-soft-power – thoughts about snubbing the Philippines with a miserly contribution towards disaster-relief, and stumps up some more cash. Global Times quotes a Mainland academic growling that the US and Japan may have hidden intentions behind their humanitarian aid. Obviously, it's all the fault of slick do-gooder foreigners that China ends up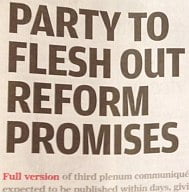 looking bad and that Filipinos have a highly developed sense of who owes whom a favour. On top of that, the Communist Party's Third Plenum communique being so vague and vacuous about what it was being 'decisive' about that it caused a stock market slide, leaders are now promising the 'full' version, crammed with lots of exciting detail about what will happen now everyone's adequately felt the stones in the river.
Perhaps Hong Kong could use some of this promised Third Plenum-style reform and opening-up. First, our policymakers deny a licence to a budding TV broadcaster in such a way as to protect the interests of the city's monopolistic property tycoons' families. Now, our precious small stockbrokers want the government to authorize an official cartel so they can pad out their fees at investors' expense, rather than accept the fact that the Almighty put them on this Earth to be taxi drivers on account of the appalling things they did in their previous life. These are the same
grubby intermediaries who for years demanded that the stock exchange shut down for hours every day so they could shovel vast piles of food into their mouths and then snooze at their desks, rather than survive off two bites of a cold sandwich like real men in real financial centres do.
On the subject of people who deserve little sympathy, Cathay Pacific's 'Fanfare' promotion predictably leads to wailing and gnashing of teeth among hordes of gullible penny-pinchers. Some folk actually believed that if they went on-line at the promised time, they could pick up a HK$50 flight to New York, among other too-good-to-be-true offers. Needless to say, while a handful may have, the vast majority of these poor guileless wretches floundered away for hours trying to get through to an overloaded, frozen website.
Cathay's spokeswoman blathers away about an 'intermittent technical error'. This is, of course, totally the wrong response to the inevitable howls of anguish from bitter, unrequited graspers of improbable bargains. The correct press statement would read:
Please be informed that, obviously, only an idiot would seriously imagine that, as a profit-making enterprise, we would give our product away to anything more than a token, headline-grabbing number of applicants. Our main aim with this promotion was in fact to entice large numbers of the most dim-witted members of the community and occupy them on their PCs for several hours, so the rest of society could get a bit of peace. We consider this meaningful project an example of good corporate citizenship, in addition to which, we take pleasure in declaring the weekend open. Thank you for your attention.