Former Chief Justice Andrew Li neatly lined up and picked off pretend- and real targets yesterday in a speech to assorted people in suits who probably didn't expect to hear anything interesting. He warned the pro-democrats of the Occupy Central civil disobedience campaign that an unlawful assembly is, well, unlawful. This statement of the obvious is bound to meet with the approval of Beijing's officials and the broad front of business and patriotic groups they have herded into a state of contrived apoplexy over the idea of people sitting in the street demanding universal suffrage. Just in case any pro-democracy activists take his comments the wrong way and feel hurt, Li reminded his audience that the most 'effective' (why didn't he just say 'admirable', 'thrilling', or 'cool'?) political demonstration in Hong Kong was the law-abiding 2003 one. The one that essentially overthrew then-Chief Executive Tung Chee-hwa.
Li was not there to tell Beijing what it wants to hear. His main point was that the Communist procedure known as interpretation, under which the Chinese government can summarily change the meaning of even the most plainly worded and unambiguous clause of the Basic Law, makes a mockery of the concept of an independent judiciary. It's especially bad, he noted, if Beijing uses the mechanism to overturn decisions that a Hong Kong court has already made (rather than pre-empt them). To make his comments more inflammatory, he added that he sees Hong Kong's Basic Law as giving the city separation of executive, legislative and judicial powers, with checks and balances (and, those of us of anglospheric heritage will infer, Magna Carta, Shakespeare, apple pie, red-white-and-blue, from sea to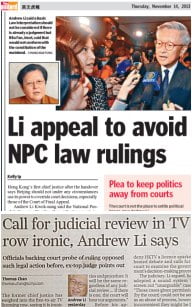 shining sea, rah rah rah). This is the exact opposite of what Communist Party ideology and scowling Chinese officials insist; to them, and to any Leninist functionaries, separation of powers is incompatible with the one-party state and thus dictatorship of the proletariat, or whatever-it-is-these-days with Chinese characteristics.
Who is right? Seen from the ground here in the Big Lychee, Hong Kong does indeed have separation of powers: the administration has to beg lawmakers for funding and grovel, often nauseatingly, to pass bills; the courts can and do push the other two branches around on grounds of law. Seen from Beijing, however, this alien, colonial, Western, bourgeois contrivance is safely encapsulated within the one-party system: the executive is chosen (via rigged 'election') and appointed by the central government; the rigged functional constituency system guarantees Beijing a veto in the Legislative Council. And, yes, the courts are subject to 'interpretation'. Morally, Andrew Li may be right, but China's globally recognized national sovereignty says Beijing is right.
The former Chief Justice hadn't finished. Rather wittily, he said he finds it ironic (as in 'hypocritical', perhaps) that pro-Beijing/pro-establishment politicians who  whine about activists, radicals and smart-asses making them look foolish through judicial reviews of executive action are now demanding that everyone shut up about the HKTV licensing mega-screw-up because it might be subject to… an oh-so-important-and-venerable judicial review.
So: a playful pretend-slap-down for pro-democrat subversives in league with Taiwan splittists; a blunt contradiction of what Beijing insists is incontrovertible and fundamental constitutional truth; and an amusing kick up the backside for a hapless government already slipping on every banana skin it can find. Who says an ex-judge's speech has to be boring?