Just when you think the nightmarish mix of insanity and malice must be reaching its limits, it gets worse. Trade Development Council/Economic Development Commission emperor Jack So says Hong Kong – suffocating under the crush of 48.6 million visitors last year – must prepare to receive… 100 million.
Obviously, anyone suggesting such a physical impossibility is brain-damaged beyond hope and incapable of rational thought. Among the many reasons such lunacy can't/won't happen:
China will one day cut taxes on luxury goods, thus eliminating the arbitrage effect that attracts most Mainland shoppers here;

Additional crowding and pollution will make Hong Kong so unpleasant to be in that tourists will start to stay away in favour of nicer places like Lagos or

Shinjiazhuang

;

Hong Kong people will finally snap. Angry mobs will burn down branches of Sa Sa, overturn tour buses and lynch 'locusts'. It's amazing that it hasn't happened yet.
But the fact that So makes this forecast shows just how deranged, unhinged and sadistic the Big Lychee's stagnant little pool of self-selecting 'elites' are. The South China Morning Post gives this psychopath a full-page mega-shoe-shine today (presumably to atone for Jake van der Kamp's recent column on how the TDC concocts crap, self-serving statistics), in which we see blather about how he will 'continue other aspects of his public service' in future. Scary.
Suddenly, a little ray of sunshine bursts into our bleak lives. Ex-Chief Secretary Henry Tang's wife Lisa Kuo appears in court and admits guilt over the couple's illegal basement. Memories from around 18 months ago come flooding back: Henry's admission of adultery; public disbelief that Beijing would scrape this far down in the barrel to find our next Chief Executive; the conveniently timed revelation about the 2,400 sq ft subterranean palace; Lisa taking the rap and bursting into tears; the previously-unimaginable rise of Transylvanian half-wolf CY Leung; the press frenzy over the basement's lavish interior, with its kinky Japanese bathing facilities, pervy window into the swimming pool, private stereo Feel-O-Rama cinema and exclusive cellar full of raspberry ketones. Happy days…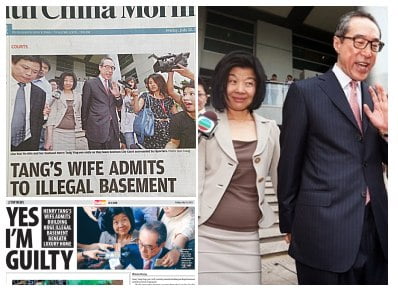 Everyone should make sure their children are shown this sobering sight. A lesson to anyone tempted to live on the wrong side of the law. Henry, after visiting the finest purveyors of eyewear in the city, has moved on from the crime by reinventing himself as a sleazy-advertising-executive type. Lisa, anticipating years of living on Correctional Services Department congee and fishbone broth, has wisely put on weight. She is also clearly drugged up to the eyeballs – I'm guessing on Quaaludes. Can't blame her. Maybe she can plead diminished responsibility ('Tang's wife of 28 years' to quote the SCMP). Maybe she'll end up in the padded cell next to the straitjacketed Jack So.
With that heart-warming thought, I take delight in declaring the weekend open.
This just in: This week's 'Do you think they're trying to tell us something' Award goes to the July 11 Wen Wei Po editorial…
The Alliance for True Democracy (ATD) has proposed three alternative formats for the 2017 Chief Executive Election by universal suffrage, but none of them is acceptable because they all violate the Basic Law and relevant decisions of the National People's Congress Standing Committee (NPCSC). Individuals as well as parties are welcome to submit their own plans for the election through universal suffrage as long as the plans comply with the Basic Law and relevant decisions of the NPCSC. The alliance is actually obstructing efforts to implement universal suffrage in Hong Kong by trying to do it outside the Basic Law and relevant decisions of the NPCSC. If it is genuinely interested in achieving universal suffrage, it must not try to break the Basic Law and relevant decisions of the NPCSC.