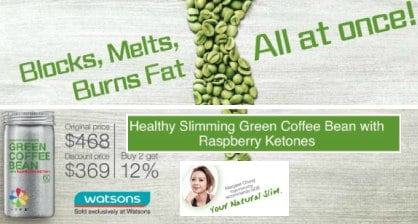 The Standard's front page today provides an interesting juxtaposition. On the right, we have the lead story 'Brainwashing rears its head', about a school civics
textbook allegedly filling innocent kiddies' minds with irrational and emotional patriotism. And on the left, we have an ad for LifeNutrition Green Coffee Beans, a product that claims to lose the consumer weight in a way that essentially breaks the laws of physics. (Includes 'raspberry ketones' and recommended by a yoga-bim.)
The very idea of a primary-school textbook on the Hong Kong Basic Law strains credibility. Needless to say, it is produced by a pro-Beijing group; equally needless to say, it has triggered instant uproar among the ever-watchful, and possibly quite hard-to-please, folks who led the fight against National Education last year.
Despite being a pro-establishment paper, the Standard cheerfully presents us with the (de-facto anti-Communist/pro-democracy/skeptic) Parents Concern Group's alarmism in full, with the loyalist Joint Committee for Promotion of the Basic Law not even getting a look-in. Had they been mentioned, defenders of the patriotic materials would (or could) have said that what they are pushing is no more manipulative than getting American kids to recite the oath before the flag every day, or swearing allegiance to the Queen, as many Hongkongers would have in the old days when qualifying for citizenship or just joining the Boy Scouts. They might have expressed frustration, even distress, at the way the mainstream Hong Kong community is left so cold by the nationalistic imagery and sentiment that is taken for granted on the Mainland.
How different it would be if the Chinese Communist Party enabled you to lose weight without any change in diet or activity levels.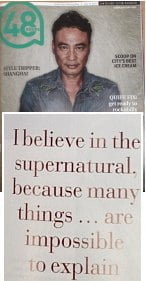 I try my best – honest – to treat the South China Morning Post's weekly 48 Hours magazine as a publication to read rather than as a glossy insert to be chucked straight in the bin. But it's hard going, all those perfect, crisply-focused photo-shoots of glistening food on shiny plates, the stuff about clothes, the sponsored features, and all the pink and red everywhere. Still, I did manage to flick through enough today to see a quote from an actor/film director saying "I believe in the supernatural, because many things … are impossible to explain."
Of course he has it backwards. If you find many things hard to explain it is probably because you lack rudimentary knowledge, such as a basic grounding in high-school science (and you can always rely on Bob Carroll). "I believe in the supernatural, because I am ignorant" is what he really means (though in fairness it could be "I say I believe in the supernatural, because I have a ghost movie to publicize").
Still, this sort of thinking is pretty common. An apartment is worth less money because a guy once committed suicide in it and people believe he might return from the dead in some nuisance-making form. People also believe that HK$369-a-can green bean coffee will override the second law of thermodynamics and make energy disappear. But try as you may, you can't convince people that the Chinese Communist Party is respectable, let alone loveable. Michael Novak said: "Our capacity for self-deception has no known limits." It seems Hong Kong proves him wrong.