At the beginning of last week, Chief Executive CY Leung waved aside calls for a public consultation on political reform in the near term, saying the government had more pressing livelihood issues to tackle. Days later, Executive Council member Fanny Law claimed consultations were underway 'behind the scenes'. A Chinese government mouthpiece went nuts over an Apple Daily report that Beijing has decided to push ahead on reform. Several establishment figures – including Law – have come forward to dismiss pro-democrats' proposed methods of nominating candidates for a universal-suffrage CE race in 2017. (Background here, here, etc.) Something is up.
Everything will hinge on the nomination issue, yet no-one will speak the truth about it. No-one, on either the pro-Beijing or pro-democracy side, will openly admit that China is a one-party state; that the Communist Party cannot accommodate a rival for power; that Beijing must therefore retain some sort of screening process to ensure that Hong Kong cannot elect an anti-CCP leader.
No-one will openly admit that the wording of the Basic Law's Article 45…
The ultimate aim is the selection of the Chief Executive by universal suffrage upon nomination by a broadly representative nominating committee in accordance with democratic procedures.
…is deliberately designed to accommodate – indeed, require – a mechanism to filter out unacceptable candidates. It is touching but unfortunate that Beijing is too embarrassed to be honest about this; instead, it has to construct a mechanism that can be portrayed as not rigged.
The phrase 'broadly representative' exists to allow for a packed nominating body (as with the current rubber-stamp Election Committee). Beijing starts with a core of obedient and devout people from pro-communist community and other groups. To provide breadth and depth, it adds people from commercial and other vested interests that are not automatically loyal but are beholden. For a badly needed dash of credibility, it inserts some legislators and others who genuinely represent the public – but in numbers too small to make a difference.
Everyone seems to be in denial about the real reason for this system. The hardcore pro-communist faithful presumably accept it as unquestionable. It is quite possible that the property cartel-tycoon clique genuinely believe the system gives them privileges because it is in the economy's interests, or because they are swell guys who deserve it, rather than to buy their loyalty. Intelligent people from disinterested backgrounds, like former civil servant Fanny Law, presumably can't or won't be honest for fear that it would cost them their position among Beijing's favoured elite.
The pro-democrats won't be open about the true purpose of the current structure because they prefer to live in a fantasy land. Their demand for a wide-open nomination process is more than a bargaining tactic; it is idealism. Sadly, it is also obtuse. Beijing relies on the tycoons out of necessity rather than affection.  A public acknowledgement of the Communist Party's bottom line by the pro-dems would pave the way to stripping the parasitical local elites and vested interests out of the screening mechanism. To be sure, the remaining filtering process would still be anti-dems; it's a question of whose interests they feel should come first: theirs or Hong Kong's. But they are keener on process than outcomes, and probably far more comfortable fighting for an unattainable noble principle than pondering messy realistic details.
Self-appointed experts calling themselves the Basic Law Institute now weigh in with a counter-proposal. It looks like a slightly less-cautious version of past pseudo-reform packages – increasing the ratio of democratically elected members on the nomination body, while re-jigging some other elements to make them less ludicrous (eg, fewer seats for the agriculture sector, more for 'youth' and 'women'). It will, of course, change nothing – hence the Institute's use of the phrase 'gradual and orderly'. Depressingly, the Institute also dredges up another old friend, 'balanced participation', which is essentially a code for putting tycoons' interests before those of the overall society and economy. And this sort of bullshit will continue until someone stands up in public and admits that the nomination system – and universal suffrage generally in Hong Kong – must be unable to potentially produce a challenge to the Communist Party's monopoly of power.
The Basic Law Institute is possibly kidding itself to some extent. Whatever happens, incremental non-change isn't going to cut it anymore. It may not quite be irresistible-force-versus-immovable-object, but in the background is the clearly perceived threat to authority that is Occupy Central.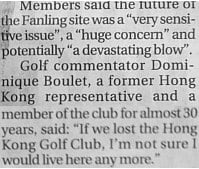 While we're waiting for that, how about Occupy Fanling? Yesterday's South China Morning Post quoted a tragic golf-freak as saying he couldn't be sure he could live in Hong Kong without the HK Golf Club's sprawling real estate in the New Territories.
At a protest yesterday calling for the golf course to be used for housing, 'Lawmaker Fernando Cheung Chiu-hung criticized the idea that villagers can be evicted while golfers are left untouched.' It is a compelling argument – but I think I might have an elegant riposte. First, the SCMP should invite the aforementioned golf-freak back for another of its Q&A sessions with him. It should ask the question: would you be prepared to swap homes with a family currently living in a 100-sq ft rat-infested subdivided flat in Shamshuipo? And he would reply: yes. Simple.