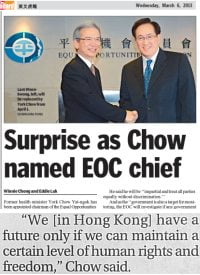 Much wailing and indignant gnashing of teeth, as the Hong Kong government appoints York Chow, former Secretary for Health, to run the city's Equal Opportunities Commission. The real surprise would have been if someone fervent about human rights got the job.
The EOC was set up just before the 1997 handover at least partly as a symbolic assurance that rights would be protected under Chinese sovereignty. Under establishment-friendly liberal chairman Anna Wu, it sued the Tung Chee-hwa administration for gender bias in allocation of school places.
Superficially, giving girls only 50% of desirable school places when they got over 50% of the highest exam results was clear discrimination. If, as some educationalists and bureaucrats claimed, those results were an aberration caused by girls' earlier development at that stage of life, it would be discriminatory against boys to give them less than 50%. Either way, the government felt humiliated. Wu was replaced by one Michael Wong, which led to a humungous and embarrassing fuss, though we can't quite remember the details.
Ever since then, the EOC has been one of those tiresomely sensitive issues people get worked up about. It has played a role in expanding Hong Kong's half-hearted legislation against various forms of bias – though for all we know, the administrations of the day might have passed the same laws anyway. Like so many public bodies, it has become a sinecure for former civil servants seeking to 'serve the community' without having to defend the executive branch's hare-brained policies or get torn to shreds by legislators.
The outgoing chairman, Lam Woon-kwong, left because pro-democrats who felt the EOC's key mission was to oppose the government objected to his simultaneous membership of Chief Executive CY Leung's Executive Council. If Lam was at odds with anyone, it was a largely uncaring public who can't see what's so special about ethnic minorities, single mothers and gays.
The chattering classes assume that Chow will be a yes-man. They did with ex-civil servant Lam, too, but he proved keener on human rights than they expected. The thing is, it's a high-profile job, and you will look like an idiot if you don't take up the noble causes the activists present to you. Obviously, as a glance at the Selection Board's composition shows, the appointment was the same old stitch-up, complete with officials falling over themselves to cite Chow's 'administrative experience' as the clincher. But provided bureaucratic or business interests or national sovereignty aren't affected, no-one here or in Beijing has any particular hostility to equality for Nepalese and lesbians. Like so many others, they couldn't care less.
As well as insisting that some of his best friends are gay, York Chow promises to apply his medical background to protecting the rights of the physically and mentally afflicted. He could start by looking at the glossy little green book inserted into today's South China Morning Post. To produce this perverted item, the Hermes company has taken a vulnerable young woman who is clearly both educationally sub-normal and suffering from anorexia nervosa, and forced her to pose wearing startlingly ugly clothes. And Dr Chow should know an assault on human dignity when he sees one.