In case you missed it yesterday: South China Morning Post business columnist George 'Mr Shangkong' Chen has found the solution to Hong Kong's housing woes. The problem, he says, is not that homes here are too expensive; it's that people's incomes are too low. "The Hong Kong government should focus on how to make Hongkongers rich," he says.
To illustrate his point, he recalls how rising incomes have made luxuries into everyday commodities since he was a youth in Shanghai a decade or so back…
A cup of Starbucks latte cost something like 10 yuan, a luxury for students at that time. Many young Shanghainese would take their boyfriends and girlfriends on dates to Pizza Hut, which was considered a decent restaurant about 10 years ago rather than just another fast-food place.

Today, the same cup of Starbucks latte costs about 30 yuan (HK$37.30) and it is no longer a luxury but a daily necessity for some students.

How much has Starbucks raised the price of its coffee over the past decade? About threefold.
The author sort-of concedes that a cheap, fungible, internationally traded consumer discretionary that grows on trees and residential real estate are 'two very different things'. But then he returns to the comparison by saying how wrong it would be to blame rising coffee prices in Hong Kong on Mainlanders.
The problems of Hongkongers (and Shanghainese, for that matter) who can't afford a home, the problems of American families who have to declare bankruptcy to pay chemotherapy bills, the problems of Northeast African farmers dying because of famine – all solved: your incomes are too low. It's not that the economics is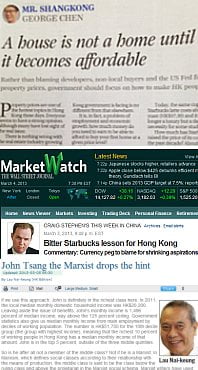 inside-out so much as the fundamental logic. If it's satire, it's really bad. If it's not satire, what on earth is going on?
As luck would have it, columnist Craig Stephens of MarketWatch also takes a look at Starbucks and housing. Like many, he is inspired by Financial Secretary John Tsang's post-budget claim to be just like all the rest of us coffee-drinking, middle-class French-movie fans. The thesis is essentially that people are treating themselves to little luxuries like almond-and-cream cappuccinos because the traditional aspirations – such as an apartment – are now out of reach. Stephens' solution is to scrap Hong Kong's currency peg. Others would say scrap the high land-price policy. Some might say scrap both, if the distortions they produce are creating a largely downwardly mobile society. And scrap the 'individual visit' Mainland tourist scheme, while you're at it. Perhaps this would count as 'making Hongkongers rich' as George Chen would put it.
The last thing we really need at this point is for rabidly pro-Beijing commentator Lau Nai-keung to join the debate, but here he comes. After a rather fruitless discussion about whether John Tsang is middle class in either modern academic or Marxist senses, he more or less straddles the George Chen and Craig Stephens approaches. On one hand, the Hong Kong middle class are in fact poor and need subsidies from the government. On the other, the reason for this is the failure of the 'financial services and real [estate] industries' to distribute wealth equitably. Delete that phrase in quotes and insert 'dollar peg', 'land policy' and/or 'tourist influx' according to taste.
Lau doesn't mention coffee once; whatever its social status, the stuff is distinctly unpatriotic.
What everyone is talking about here is the widening economic gap between a small group at the top and most of the rest, with the middle class in the Lester Thurow sense shrinking in size. Not just a Hong Kong phenomenon, though of course we have to have a high-density version of it in the Big Lychee. As for a definition of middle class, for what it's worth: 'that part of the population who are either whining now about unaffordable housing, or will be whining later on after the bubble bursts about negative equity'.
On a brighter note: I've just spoken to someone in Beijing and asked if they can get Rita Fan out of everyone's cameras and microphones – give us all a rest down here. They'll see what they can do. My good deed for the day.
Daily Telegraph correspondent Malcom Moore's tweets from yesterday's opening of the NPC…