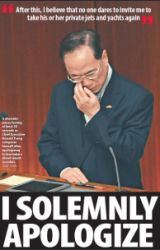 Crushed, humiliated and collapsed in a pitiful heap, the sobbing wreck that is Chief Executive Donald Tsang submits himself to his public roasting at the hands of the Legislative Council. There was a time when it was hard not to feel sorry for his predecessor Tung Chee-hwa, who was repeatedly pilloried and kicked and dutifully went back for more. Now it is Sir Bow-Tie's turn to descend into Lear-scale tragedy.
He brought it on himself. In 2006, activist Christine Loh asked to speak to him about the Tamar Government Palace project he was insisting on pushing through. He replied with the immortal words: "I would only talk to you if you agree with me." After pro-democrats in Legco successfully opposed a phony political reform package, he started to take delight in partially or wholly ignoring and excluding them and their allies.
It was this petty, pompous, insecure and arrogant attitude that led him to the favouritism, cronyism and nepotism that we see in our 'elite' establishment today. Poor old Tung stuck his neck out and appointed a few outsiders. Tsang has packed government with identical blinkered bureaucrats, and other public bodies with Anthony Wu JP, Ronald Arculli JP, a couple of tycoons' kids, Bunny Chan JP, Anthony Wu JP, Ronald Arculli JP and Ronald Arculli JP. Meanwhile, some of our seedier, yacht-owning businessmen – perhaps sensing that here was a man who craved a friendly word or two – lined up to ingratiate themselves with him, and like a mug he fell for it. After decades of obeying civil service rules (you must report any gift worth over HK$400 and any over-lavish meals), he degenerated into a joyful recipient of tacky good deeds.
Lest we forget: those who live by the shoe-shine, die by the shoe-shine. Now everyone is helping to hang Donald out to dry. Pro-establishment business figures want to distance themselves from the collusion thing; it could have been them or their relatives who invited Donald onto a yacht. Pro-Beijing figures see a chance to give a long-overdue beating to the colonial running dog they've been ordered for years to support. Pro-democrats can take revenge for his taking revenge against them – there are no grown-ups around here. And the people of Hong Kong can take out their frustration with the way the tycoons have come to own the government. Donald may not be totally culpable here – the system imposed by Beijing is at fault – so we are officially whipping him for damaging Hong Kong's reputation.
Both of Hong Kong's CEs since 1997 have ended up being chewed up and spat out by a stroppy public. Who would want to be the third?
The Most Inexplicably Incompetent Timing of an Announcement of the Week Award goes to Chief Executive hopeful Henry Tang, who chose yesterday to make a real, live public attack on rival CY Leung. The assault has the same blithe, handed-me-on-a-plate air that has marked the rest of spoilt rich-kid Henry's campaign. As well as poor timing, the thrust was incoherent and economically illiterate, blaming CY's '85,000 homes a year' plan for the unemployment and suicides after the 1998 Asian financial crisis. Make housing more affordable, and people will kill themselves. So vote Henry, who'll push property prices up out of reach, and everyone will jump up and down singing What a Wonderful World.
A friend of mine who dropped by CY's campaign HQ recently reports piles of boxes and papers and junk and the usual chaos you get in a place where people are busy and in a rush. My guess is that Henry's office is tidy and dead quiet. 
On completely unrelated matters… You know you're getting old when the trivial pap pop culture you knew as a kid gets serious write-ups in Time or, for heaven's sake, the Wall Street Journal. I remember one of the nuns at my school asking me and a fellow seven-year-old boy what we wanted to do when we grew up. He said he wanted to be a US Marine and got a smile. I said 'pop star' and got a sour look and some muttering about wasting a fine mind. We were both inspired by the TV of the time, which largely consisted of the day-after-day black-and-white carnage of the war in Vietnam and this (song dedicated to Donald).