By rights, Hong Kong should be suffering serious quasi-election theatrics fatigue by now. After embarrassing, mishandled on-stage accidents led the two leading actors going horribly off-script, the curtain has come down for the interval. The Mainland directors, having ruled out any re-casting, are now furiously rewriting the next act. It is a thankless task; the play's backers are split into two hostile camps, and the audience is in a bad and unpredictable mood. A 20-minute intermission and a calming drink are in order. Instead, a third thespian, whose bow-tie was not expected to be seen much in remaining scenes, has mounted the boards and launched into a separate but similarly themed drama of his own. And his performance is getting reviews far and wide.
The Chief Executive 'election' farce has, weirdly, become more of a farce by becoming less of one – or maybe vice-versa. Either way, it is attracting far more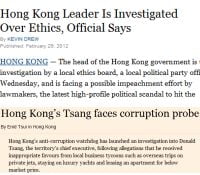 interest from the world's media than would usually be the case, which makes Beijing's dilemma that bit more acute. Trained on the rigged 'election' system, the spotlight could be a good thing. But it's less helpful if it results in headlines about current CE Donald Tsang and a 'corruption probe'. Whether Hong Kong was better under the British is debatable. I remember in the 1980s racism that wouldn't be tolerated today, hospitals with patients in the corridors and, in my neighbourhood, a crumbling open-air methadone dispensary that looked like something from the recesses of the Third World. But what basement-owner Henry Tang, luxury-loving Donald Tsang and ultimately Beijing have certainly been doing is ensuring that Hong Kong's reputation was better under the British.
Which brings us to a response to Hugo Restall's Wall Street Journal piece that someone should send Sir Bow-Tie. Or should have – too late now. It is a letter from one Kin-ming Liu, which quotes from the memoirs of colonial Governor (1947-57) Alexander Grantham:
"As the Queen's representative, the Governor has to behave and be treated as such. He should be dignified without being pompous, approachable and friendly without being intimate, because if he is intimate with any one individual or any particular group, he will be accused, rightly or wrongly, of favoritism. He should not confine his associations to the 'upper crest' for he belongs to everyone in the colony, from the highest to the lowest. He must be discriminating, but not exclusive, in the social entertainment that he offers and accepts."

Sir Alexander also had this piece of advice for his successors: "it is good for a governor when on leave to have to take his place in a queue and to have his toes trodden on in a crowded railway carriage. It brings home to him that he is but an ordinary mortal like anyone else, and that the dignity attaches to the office and not to the individual."
Especially when the individual acts like a gauche little social-climber on the make. There are acceptable, even trendy, parts of Macau; Sir Bow-Tie was not in either. His plans to stay in Shenzhen after leaving office are similarly non-U; an appropriate neighbourhood of Macau would have been far preferable (Donald is cooling off out of town to keep a promise he made after former Chief Secretary Anson Chan kept sniping at him from her irritatingly nearby retirement residence).

Still if the Independent Commission Against Bad Taste and impeachment for high crimes and style misdemeanors are warranted for anything, it must be Phuket. Did he have a tattoo done? Did Selina get her hair braided on the beach? Did they rent jet skis? We have learned that they took a helicopter ride. Did they pile their plate high with oysters at the buffet? Did they buy and wear matching T-shirts? We have plumbed some depths since 1997, but really…
Some places need jobs, reduced deficits, higher exports or the toppling of a tyrant. Hong Kong needs a leadership with a bit of class again. And we now sit back to watch Act II.