"Oddly, recent elections in the mainland Chinese village of Wukan seemed more democratic than Hong Kong's." Yes, it is a bit strange when you put it that way. One key difference is that the people of Wukan took to the streets, fought and overthrew the local leaders to win their rights, while soft Hongkongers sit around and moan – and don't even do that when distracted by the Hang Seng Index bouncing up 1.7%. Like it did yesterday.
I've been selling into this rising market over the last few weeks. My assumption is that, at best, the global money-printing behind hot asset prices must stop, so there's no upside from here, and, at worst, some sort of Greek or other mayhem is lurking out there and we're due for a serious fallback. But the truth is that no-one has a clue. Sitting on cash for a while seems stupid, but so does everything else. (Searching for downtown Hong Kong-made honey recently, I even found myself gazing in a property agent's window and musing about buying a Tai Ping Shan slum walkup to renovate – at HK$10,000 a square foot. Reality struck like a bee sting, or at least I think it was reality.)
It is not only in the field of investment options that everything seems stupid. Disappointed at the lameness of CY Leung's supposed West Kowloon wrongdoings,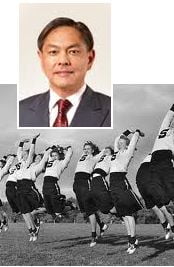 aficionados of scandal perk up on hearing the news that the Transylvanian-visaged chief executive candidate might face new conflict-of-interest allegations. One slight problem is that the innuendo comes from tycoon Charles Ho's Sing Tao media group, which is serving as rival candidate Henry Tang's smear-spreading cheerleading team for this bizarre semi-fake, semi-real campaign. Another is that it assumes the Chairman of the Council of a Hong Kong university controls anything, when he is just a figurehead.
The titles are stashed away in Chief Executive Donald Tsang's big box of sweeties for good boys and girls. If you already have a 'Justice of the Peace' tag, and a shiny Gold Bauhinia Star medal, and your number-one son has already been given a seat on the Advisory Board Review Advisory Committee, and Sir Bow-Tie wants to give you another pat on the head, you end up chairing a university council. And if everyone hates you, it'll be a university with a reputation for admitting undergraduates who failed to get into the Sara Beattie Secretarial College – namely CY's City U.

Meanwhile, a word from Beijing's Liaison Office over in that ugly building on Des Voeux Road West – the place where Mainland officials are so expertly pulling the strings behind the scenes of our quasi-election. It's from Han Shuxia, who's the Director of the Youth Department (which would do United Front work), and it's about whether the CE 'election' on 25 March will result in a stalemate. "It won't," she says. At least we can be clear about one thing.