I switched on the radio this morning to hear someone saying how 15 members of the Legislative Council need to sign up to a particular motion in order to execute some parliamentary procedure. It concerned Chief Executive Donald Tsang, so I vaguely assumed it was about requiring him to give evidence to the Select Committee on Tycoons' Yachts or something. But no: they were talking impeachment.
There are lots of words to describe Sir Bow-Tie – arrogant, vain, unimaginative, inflexible, jumped-up and so on – but 'corrupt' is not one of them. If anything,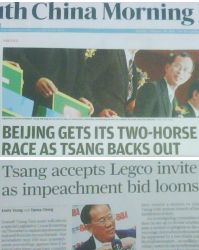 there is something rather tragic about such a man being flattered by the attentions of tatty second-tier plutocrats with their sleazy status symbols. If tobacco-empire scion Charles Ho took a break from pushing his agendas in his own newspapers and offered me a ride to Macau in his luxury cruiser, I would politely make an excuse. I'd feel more wholesome wedged between rows of snoring Mainland tourists in the back of a Jetfoil, thanks.
Impeachment won't happen. But the fact that it is even being mentioned is a sign of how deranged things have become.
It is hard to believe Donald's sad (and suitably silly and little) frailties have come to light right now by chance. The same probably goes for Henry's basement woes – which could in theory lead to criminal charges – and CY Leung's oddly insubstantial West Kowloon conflict of interest. We have chaos, of a sort. But did it come from Beijing, or did it arise locally?
One theory is that we are at the mercy of an especially fluid political situation in the Central People's Government, with factions jostling as the national leadership transition gets underway. A new power-balance comes into being in Beijing; the longstanding plans for Henry Tang are trashed at the last minute, our local establishment are shoved aside, and CY takes over, ushering in social and economic reforms and whatever other measures the diehard patriot has in mind. This assumes that Henry is to be dropped in favour of CY because the Chinese leadership's Tang-friendly Shanghai faction has lost its grip up north. In this case, Henry's basement revelation was orchestrated, and his subsequent egregious behaviour something he himself stupidly contributed to help his enemies.
On the other hand, maybe the political situation in Beijing is less disorderly than we think. As dissident Yu Jie says from the safety of Fairfax, Va: "The country's leader is simply a guy selected by a few of the most powerful families in China to work for them … To maintain the status quo, they'll do whatever they can." Maybe the 'fluid situation' up there is what we infer to make sense of our chaos here. Maybe the leaders in Zhongnanhai are relatively unified and have more pressing things to bicker about than who runs Hong Kong, and it is simply the Chinese officials sent to the Big Lychee to direct everything behind the scenes who have lost their grip.
Under this scenario, everything springs from York Road, Kowloon Tong and Henry Tang's ruining of his own integrity. The power-hungry CY and desperate Henry camps, baited by a free press, have abandoned Beijing's unwritten rules of quasi-election etiquette and are in a real fight. With the two-horse race now presumably set, Beijing can drag the two candidates apart (Henry pleading "he started it") and tell them which has been chosen – and get on with the mock-election.
Given Henry's utter unacceptability, we could end up with CY-lite: CY Leung, but defanged and chained down by the lifelong bureaucrats and tycoons' buddies who would have kept Henry's administration on the non-reformist path of continued cronyism and collusion. Or, as a matter of principle and to save face, the black hair-dye brigade may refuse to bow to public opinion and let Henry 'win' the quasi-election next month anyway. Let the masses march and get it off their chest, then back to This Is The Way It Shall Be as usual.
So: if the chaos is up in Beijing, we have big changes ahead under wolf-man CY; if it's local, it's going to be more of the same, whoever they say is in charge. As for which we prefer – that's irrelevant.