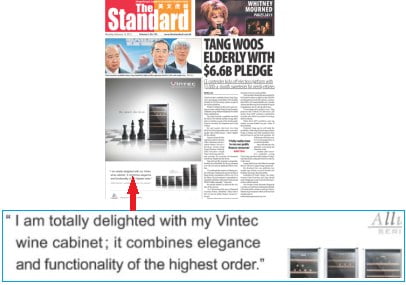 I had never knowingly listened to a Whitney Houston song, but now the grieving newscasters are playing medleys of them, I realize the ditties had been all around me, going in one ear and out the other for years. Sort of the opposite of the Great CY Leung Arts Hub Scandal, which the government and pro-establishment media have been avidly insisting we hear about, yet which still appears never to have happened.
The matter is now being kept alive by Leung himself, in a self-restrained sort of way, and by the pro-democratic camp, demanding disclosure of evidence of any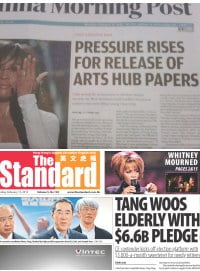 wrongdoing. They are joined by hitherto unheard-of architect Dr Ken Yeang, an apparently innocent bystander who finds himself implicitly smeared along with the government's intended target and doesn't like it.
As if to cover up the propaganda officials' ineptitude, forces behind Henry Tang produce a two-pronged publicity blitz on the subject of looking after our old folk. Newspapers throughout the land (both the South China Morning Post and Standard in English) eagerly carry a riveting op-ed article by Labour and Welfare Secretary Matthew Cheung outlining the administration's generosity in splashing out on senior citizens' benefits to the tune of over HK$20 billion a year. And Henry himself promises to double that by, in effect, increasing the current social security safety net for the elderly to HK$3,000 a month. It could be coincidence, but the government puff-piece and Chief Executive 'candidate' announcement match suspiciously neatly.
Henry also revealed some other so-called policies – highly familiar, inane giveaways and senseless blather with no rhyme or reason. (His website promises English translations sometime – 'thank you for your patience'.)
One is a proposal to set up a parallel Mandatory Provident Fund system under the auspices of the HK Monetary Authority (whose previous boss, Joseph Yam, stood by Henry's side at the press conference). This would compete with existing commercial MPF providers' attempts to attract additional monthly savings from workers; the HKMA could subsidize management fees by absorbing the savings scheme into its existing Exchange Fund. And it would give the former civil servants at the Authority a bigger empire to play with.
The rest involves various tinkering with travel subsidies, medical vouchers and welfare payments to Hong Kong retirees on the Mainland – it sounds like a bad parody of one of Financial Secretary John Tsang's budgets. His economic pledges ape a Donald Tsang Policy Address, with statements of good will towards small and medium enterprises, creative industries, the tourism sector ('gourmet paradise' anyone?) and the usual vacuous attempts at economic diversification like the health care and certification industries.
Henry declared that he would create 100,000 jobs, which would probably bring us to the point where we have a negative unemployment rate (like in the late 1980s, when some people had two jobs). He also promises a 'rugby ball' shaped society, with hardly any poor or rich, just a nice big fat middle. But rest assured that the little shreds of substance in this gradually emerging policy platform suggest every intention to keep the current, distorted economic structure intact. (Henry's verbal manner answering questions from the press was at least as uninspiring as usual; onlookers would be forgiven for wondering who, if he becomes CE, will really be running Hong Kong?)
The 1,200 members of the Election Committee will now start nominating Chief Executive 'candidates' for whom they will subsequently vote in March. The puppet-masters pulling the strings behind the scenes have so far spared us the distressing and pitiful sight of tycoons clamouring to donate money to pseudo-campaign funds. As Hong Kong marches towards managed quasi-democracy, we may be treated to embarrassingly clumsy smears designed to turn us off the wrong guy, but we may also get more tasteful and decorous stage-management of the way plutocrats express their preferences. We can always hope, and look on the bright side.