The morning gets off to a bad start as I grapple with an uncooperative mobile device and accidentally call someone's number for a brief second. Minutes later, a woman listed in my contacts calls me back, excitedly assuming that I have phoned to say Happy Valentine's. I let her down gently.
At least I have not been standing half the night on a sidewalk between Des Voeux and Harbour Roads. Like a snake consuming itself, the line around the block east of Hang Seng Bank HQ in Central has no beginning and no end. Here are all four corners at 8.30am…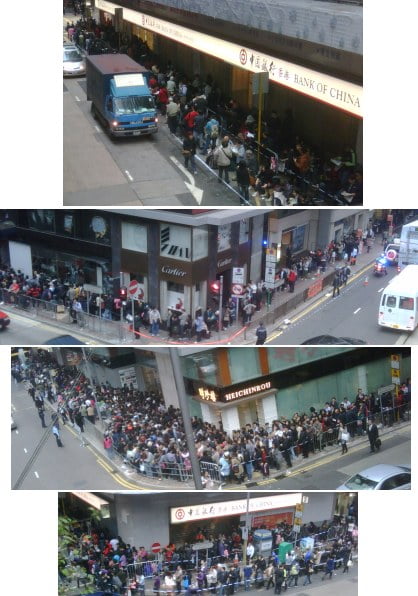 The lengthy throng seems to overlap at some point outside the Bank of China, where the last in the queue stand in a column beside the first, separated by Hong Kong Police barrier tape. Like Dutch tulips, McDonalds Snoopy dolls or iPhones, it's all about the madness of crowds, each individual who sniffs a quick killing attracting another three or four petrified of losing out. The Mainland's historic financial institution has printed a mere 1.1 million 100th anniversary Hong Kong banknotes, and people are selling them on for six to 10 times their face value. So it says here. Waiting patiently for hours to make several hundred percent profit is perfectly rational – but who are the idiots buying the things at such a mark-up?
And so we turn to the ongoing soap opera that is Hong Kong's quasi-contested Chief Executive quasi-election. After a shockingly lame smear campaign aimed at
contender CY Leung, we now have a similarly pathetic non-scandal in retaliation (with a bit of help it seems from Ming Pao newspaper). And it is seriously pathetic. Illegal structures? That's the best you can do? It's an insult.
Illegal structures are Hong Kong's great leveler. If you do not have one it is because you are boring and live in a modern-style rabbit-hutch apartment (and probably collect 100th anniversary banknotes). The original, free-thinking, liberty-loving rest of us – the wealthy in Kowloon Tong detached houses, the grasping peasant mafia in New Territories villas, the bohemians in crumbling Soho tong lau and the underclass in rooftop fire-trap huts – all have them.
By definition – and like their owners – all illegal structures are endearingly eccentric, and Henry's is no exception: a sinister cellar, with blood stains on the floor and chains on the walls, and mysterious windows in the ceiling so it can be viewed from the bottom of a shark-infested swimming pool. Or at least it's a vintage wine stash. Obviously, people who live in some soulless Flat E, 17th Floor, Block G mass-produced by Sun Hung Kai will be jealous.
So just as my instinctive longing for truth and justice leads me to side with CY Leung on the Kowloon Arts Hub conflict-of-interest non-issue, so my love of life, liberty and the pursuit of decent-sized living space places me alongside hapless, grinning Henry on this one.
To read Asia Sentinel, local tycoons are having second thoughts, and Henry's candidacy is on the brink of collapse (and the article predates this 'Cellargate' outrage). We should be so lucky for life to turn so interesting all of a sudden.
Such a scenario implies that Henry stands down (back strain from cellar-digging, say) and the Mainland officials trying to direct this farce behind the scenes introduce a last-minute replacement whom people like Bank of East Asia's David Li and ex-Monetary Authority boss Joseph Yam can seamlessly embrace as if nothing had happened. But the comrades won't do that over the laughable anti-Leung smear. They, after all, are the ones who, in their desperation to boost Henry in the opinion polls, surely instigated it. And they're not going to do it because of an illegal structure. No-one ever does anything over an illegal structure.