Hong Kong's Equal Opportunities Commission wades into the Locust-Gate morass with a plea to all of us to be nice and civilized to each other, phrased with all the hand-wringing even-handedness at which the Big Lychee's bureaucracy excels. The EOC likes to see itself as a watchdog that,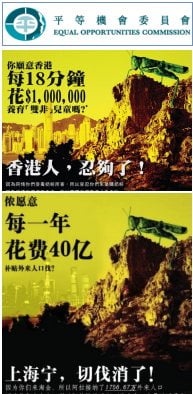 by the standards of local officialdom, is trendily ahead of the curve on social issues. Even so, they have a curious ability to make sensational and provocative topics (gay rights, for example) mind-numbingly dry and dull. We can safely declare that the more lurid side of the backlash against Mainland tourists is blowing over.
Nonetheless, the imagery – as befits a leaping insect – has legs. Shanghainese intellectual property thieves hijack the Apple Daily anti-locust/Mainlander ad for their own purposes. Which are to get back at the Cantonese running-dog bastards down south? No: to lash out against their own influx of bloodsucking peasants, the rural migrant workers with no residency rights in the city. The ones who earn a pittance dangling from ropes washing skyscraper windows. The ones we in Hong Kong feel so sorry for when municipal authorities pull their kids' illegal schools down.
A welcome break from the usual blandness of opinion in the South China Morning Post's op-ed pages comes from Lau Nai-keung, the perpetually angry, mouth-frothing patriot and scourge of the mass of Hongkongers ('dissidents') who fail to kowtow to Beijing. He is interesting because, as one of the devout faithful, he has to find ways to square intellectual circles. He loves the Communist Party because it works for the people; the same Communist Party appoints a Hong Kong government that blatantly sides with feudal-style landlord-tycoons against the people. In his struggles to get his head around such contradictions, he sometimes makes sense.
Lau's current position, not unreasonably, is to support CY Leung to be the next Chief Executive instead of spoilt rich-kid Henry Tang. So the Great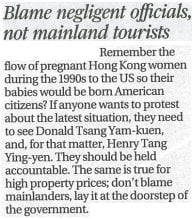 Anti-Locust Uprising of 2012 prompts him to point the finger of blame at the officials and policymakers.
His accusation comes with a pro-Beijing twist. The Hong Kong government, he maintains, brought local maternity services under unbearable strain by accepting the courts' reading of the Basic Law as granting residency to children of all Chinese citizens born here. This was probably because the Basic Law explicitly states as much (Article 24 (1)). But the pro-Beijing camp maintains that their much-loved, invisible, parallel Basic Law – the drafters' supposed 'original intent' some 20 years ago, which somehow failed to appear in the final text – denies this right to, lo and behold, Mainland mothers.
Still, at least he's blaming the right people. Speaking of which: has anyone seen our leaders lately, other than reading out lame budgets? They seem to have absented themselves from the Mainland Locust controversy with stunning success. I always knew they had it in them.