Yesterday's puzzle: why is Hong Kong's Environmental Protection Department so keen to use dirty and old-fashioned incinerator technology to solve our garbage woes when clean and fruitful Plasma arc molecule separation and gasification appears so obviously better? A comment-writer says…
It has taken over 10 years to get the proposal this far and the technology was not that old when EPD started the process … In 2009 the nice Japanese old technology suppliers took an awful lot of EPD bureaucrats, local Lantau pollies and the Heung Yee Kuk (of course) to Japan for an all-expenses paid incinerator and karaoke tour.

This sets off a few synapses. Much rummaging around fails to uncover it, but I do recall seeing an official document containing lovely photos of pristine Northeast Asian incinerators. They were so gaily coloured that they doubled up as tourist attractions, and the reader was in no doubt that communities must have been squabbling over the right to host the things. And the document did have a curious sort of karaoke-style, relaxed and cheerful mood to it.
Speedily weighing things up yesterday, I pondered the possibility that the Plasma arc warp-factor antimatter technology looks a bit too good to be true, and the pragmatic civil servants therefore may have sound reasons for wanting to spend billions on building a giant smoky ash factory on Shek Kwu Chau. Now it looks a little more as if this would be a good subject for some incisive 'Incinerator-gate' investigative reporting. What a pity no such thing exists in Hong Kong.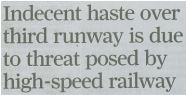 Which brings us to another puzzle a watchdog press would sniff around: Why is the government so desperately eager to push us into building a third airport runway (at a mere HK$132bn)? Even by the standards of the Big Lychee's conniving and arrogant officialdom, the public opinion poll showing the population begging to have the thing built without further ado was a contrived and laughable bit of propaganda. P.A. Crush, the South China Morning Post letters page's voice of reason from Shatin, explains…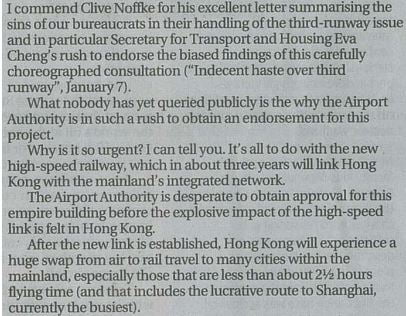 Air traffic fell in Wuhan after high-speed rail arrived, he adds, and Hong Kong's own air cargo throughput is peaking.
This sounds all too believable. Dare I take the logic a step further and pose the question: Why did the government/MTR planners ram the HK$80bn high-speed rail link proposal through with such urgency? Answer: To beat the airport bureaucracy's third runway to it.
Another bit of civil service skullduggery a hypothetical investigative journalist might tackle is the Government Hill controversy.
Not everyone appreciates the architectural wondrousness of the old Central Government Offices on Lower Albert Road – the soaring flying buttresses, the gleaming Corinthian columns and the mist flowing through the willows and ponds in the surrounding gardens. But many sensible folk have a soft spot for the site's historic significance, and just about everyone apart from an evil alliance of bureaucrats and developers are united in opposing plans to build an office tower/car parks/Dolce & Gabanna-type temple to tackiness and landlords. 
The government portrays a translucent tower barely visible among lush greenery – hanging gardens, no less – spilling down from a park-like forested hill, and creeping like untamed jungle along overhead walkways and westwards right along the side of Queens Road away from the Ice House Street junction. Why, you can hear the hissing of the pythons dangling from the branches…
Opponents say it is all a load of BS, and even places like Battery Path face despoiling in some way or other, not least because of higher traffic levels. At the bottom of it all, however, is the question of why the place needs redevelopment of any sort at all. Short of possession of bureaucrats' souls by mysterious demonic powers, no-one has a satisfactory answer.