Everyone I know has an iPad, and with a long and not entirely pleasant trip ahead, it looks like the ideal companion for flights and airports: books, magazines and films, all with email and web-browsing. But first I must prepare myself for the mental torture of entering a shop and buying something, so I Google for advice on how to set up one of the devices.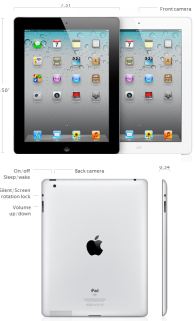 The first thing I learn is that I can relax: you control the contraption in the same way as an iPhone. Fine, except I have never touched an iPhone. Anyway, you get it home and out of the box, it seems, and plug it into your computer. It then starts to do something to (or from) iTunes, though I neither have nor want anything to do with iTunes. I assume that the gizmo will play the MP3s I have gathered over the years rummaging around in the dustier and perhaps less law-abiding recesses of the Internet, though the emphasis seems to be Apple proprietory this and Apple proprietory that, with all 'Apps' of course, Apple-approved. Does the user own the product or vice-versa?
Plus, some idiot decided it would be really cool not to have a USB port. God forbid you besmirch the machine's beauty by making it usable.
So I look through recommendations for alternatives, perhaps made by technology companies rather than a designer-label fashion house that wants to separate you from the life you keep on a 32GB thumb drive.
There's a thing called the Samsung Galaxy, and another called the HP Touchpad, both of which seem pretty much the same. Still no proper USB port, though you can get adaptors. (This really does seem to be for aesthetic purposes. There was a demented soul on the old IceRed message board who planned to be circumcised because he thought it would look nice; it seems he's now in tech design.)
I happen to go past a branch of Fortress, so I drop in and look around. There is a Samsung Galaxy thingy, clamped to a display base and encased in a bullet-proof glass cabinet. As I peer at it, one of Li Ka-shing's socially inept, acne-ridden salespersons approaches me nervously. Go away. I hate shops. Hutchison retail outlets, packed to maximize revenue per square foot, give me claustrophobia and drive the staff who work in them into jittery wrecks like battery-chickens. The sales guy wants to say something but doesn't know how to start. Clearly, one of us is going to have a panic attack and flee – it's a question of who breaks first. As it happens, it's me, and I find instant relief breathing in the fresh Des Voeux Road air in a soothing sea of 10,000 Mainland tourists.
I can probably get a cheap better-than-the-authentic ripoff iPad up at Shamshuipo. Do I need anything that badly? Or I could just admit defeat and enter the clean and spacious Apple palace at IFC and beg forgiveness for all those things I said and start being a trendy contributor to Steve Jobs' estate.
Then again… This is about something to read on the plane. The latest Economist will be on the newsstands in a few hours. What was I thinking? (Though things may be quiet around here until Dragon Year.)