Hong Kong's rarely seen Justice Secretary praises the city's Court of Final Appeal for "…faithfully apply[ing] the common law in an unprecedented constitutional setting."  By which he means swallowing the repellent truth that we are part of a Communist one-party state whose leadership can alter the meaning of a law, regardless of its wording, on a whim out of political expediency. The euphemism is 'interpretation'.
Weird juxtapositions and connections are an inevitable part of such an environment, and today's come courtesy of the wide overseas reporting of the protest against the Dolce & Gabanna photo-racism outrage, and the arrival of colonial-era officials like former Health Secretary Libby Wong to help the lobby fighting plans to demolish the old Central Government Offices in Central…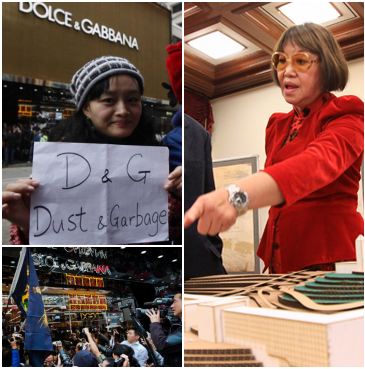 The Save Government Hill movement has even, the South China Morning Post reports, unearthed the architect: one Michael Wright, aged 99, of London. Former Chief Secretary Sir David Akers-Jones chimes in, saying: "People are regretting they cared about [conservation] too late. We have given Central away. The time has come to stop."
The weird juxtaposition manifests itself physically through the appearance of a flag bearing the British Hong Kong arms among the witty props protestors brought to oppose 'luxury hegemony' outside Dolce & Gabanna on Sunday. Whoever carried the pre-1997 banner – not unprecedented at anti-establishment gatherings – is probably too young to recall Libby and her penchant for the occasional menthol cigarette, or the all-purpose colonial-era patrician manner of Akers-Jones.
The anti-D&G demo has jarred the overseas press, who perhaps can't make sense of rich, status-symbol Hong Kong chanting "Death to the designer label!" and claiming to be racial victims of their peasant-compatriots across the border. Huffington Post, Wall Street Journal and Financial Times writers are bemused, but suspect that the up-market mega-stores serving Mainlanders are part of the problem. These are the same stores, of course, that Hong Kong planners wish to accommodate in the proposed Government Hill redevelopment's shopping mall.
The deluge of Mainland tourists and money, and higher rents, and the subsequent crushing of independent retailers serving local inhabitants has been going on for a good 10 years, and it is if anything getting worse. Mainland mothers giving birth here and stripping supermarket shelves of non-adulterated baby formula add to the alienation. And then all these Mainland investors buy up local apartments to leave empty, while Hongkongers can't afford to live or start a business in their own city. The property interests evict, knock-down and rebuild to rake in yet more money, while the rest of the Big Lychee gets swept aside as an irrelevance. It's enough to make young people resort to waving colonial symbols – a largely misplaced piece of imagery, though also possibly more vivid than they realize, being an expression of anti-Chinese sedition. And it's enough to get these old fogeys who ran the place in the 70s and 80s out of their retirement homes to do something equally unthinkable: oppose the bureaucracy they bequeathed us.
Back in the SCMP, we have a column by Peter Kammerer, who suspects the bags Mainland tourists lug around Hong Kong are stuffed with dirty money, which cannot possibly have crossed the border in accordance with Mainland law…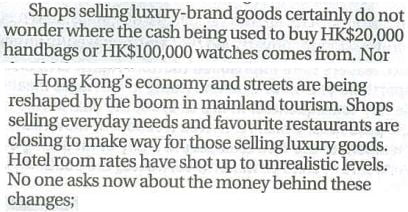 To get a better idea of what is going on, take a visit to Macau. Its casinos' revenues have boomed almost exponentially, just like Hong Kong's tacky designer-label palaces and empty real estate. Peter Kammerer laments that no-one is asking how much of this cash is illicit. They just assume it. Of course this is money-laundering (D&G's objection to photographs supposedly sprang from a guilty Mainlander not wanted to be spotted in the store). It is not new; Hong Kong's zillions of little banks and Macau's former gold bullion market were doing it decades back. Nor is it unique to the Pearl River Delta. North Korea has a casino or two. And the guy who wrote that "Singapore's success came mainly from being the money laundering center for corrupt Indonesian businessmen and government officials" didn't get fired for writing fiction.
The key thing is that Macau's casino expansion, and the liberalization of outbound travel by individual Mainlanders to the two Special Administrative Regions, result from policy set in Beijing. If the two ex-colonies are being transformed into money-laundering centres it doesn't have to be by accident. Indeed, the Chinese government must know what is happening (it has in the past reduced the number of trips people can make to Macau). Maybe the national leadership sees the outflow of corrupt money as a pressure valve, preferable to trying to keep the ill-gotten gains within China. Seen that way, what is going on around us in casinos and luxury goods and property markets is our contribution to the motherland's harmonious socialist development.
Portugal lost control of Macau decades ago, but Britain kept Hong Kong relatively insulated from Beijing right to the end. Hence the irritating opinion polls on citizens' identity, and hence the growing refusal to accept D&G-Mainlander imperialism and the developer-Tsang regime conspiracy to smother the city in Mandarin-speaking, simplified character-using shopping malls.
In an unprecedented constitutional setting, it all makes sense.