Yesterday's Pan-Democratic primary election was pointless but full of telling contradiction. The intention was to allow the public to freely elect someone to take part in a rigged quasi-election in which they are forbidden to vote and their nominee will be forbidden to win. The turnout of just under 34,000 can be seen as either pitiful, for a city of 7 million, or impressive, compared with the 1,200 allowed to cast a ballot in the fake election for Chief Executive in March.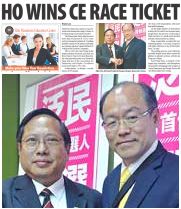 Albert Ho of the Democratic Party was inevitably going to get the nomination owing to his higher profile than the ADPL's Frederick Fung. Sexier, brighter, brasher, more inspiring and more statesman-like individuals would not be hard to find, but the futility of the nomination and the petty rivalries within the pro-democracy camp left the field to this uncharismatic pair. (There is also, of course, the big issue of the potential repercussions from alignment with the opposition, which keeps much talent out of political participation. This is echoed in the press; the Standard distances itself with quotation marks around the phrase 'primary election', while the South China Morning Post refers to the event as a 'poll'.)
Once he is officially on the ballot, Ho wants to nail establishment candidates Henry Tang and CY Leung on property, financial and public utilities hegemony. As the underdog chosen by the public, he theoretically has an ideal opportunity to win by losing, gaining the highest public opinion ratings and leaving the next chief executive with a horrible, shriveled-up excuse of a mandate. But it won't happen. You wouldn't have thought that you could nominate someone who can look less qualified than Henry, but the pro-dems have managed to do it. Things might be different if a proven leader like ex-Chief Secretary Anson Chan or a brainbox like policy wonk Christine Loh were in Ho's place. The best we can hope for is an entertaining TV debate between Ho and Henry.
The press in Italy and France meanwhile report a Hong Kong Don't-Tread-on-Me moment as outraged citizens leap to defend one of the city's most cherished liberties: the right to keep and bear digital cameras. A thousand mob the Tsimshatsui Dolce and Gabanna store after some spotty security guard decreed that Hongkongers are not allowed to take photos in their own streets.
There are few things more delightful than watching a jumped-up company selling worthless and/or overpriced junk come crashing to Earth through its own arrogance and public relations incompetence. The classic example is the McLibel case, in which McDonalds in London sued a group of nonentities for handing out leaflets listing the junk food giant's real and imaginary sins. I have a hunch – I'd like to be wrong – that the Beijing officials running the CE quasi-election behind the scenes will not actually allow Henry Tang to engage in a contest of minds with Albert Ho, live and on-camera. If so, at least we will have the amusement of watching the tacky D&G clothing retailer (with its individual-respecting Code of Ethics) put its glamorous reputation back together.