On the top floor of S-Meg Tower, deep in the heart of the central business district of Asia's most throbbing and pulsating international financial hub, a spotty, greasy-haired youngish man in unfashionable spectacles struggles to type on a computer keyboard while having a 15-inch, wooden-handled, World War II Japanese 'last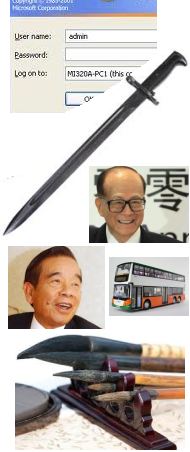 ditch' bayonet pressed tightly against his throat. It is a six-monthly ritual, and he knows that if he obeys every command his life will be spared.
"Put it back to the old password," his calm but weary assailant tells him. "The old one was fine. No-one knew what it was, and I can remember it. If you make me change to a new one, I will have to write it on a bit of paper and stick it on the wall, which defeats the whole point – and kill you."
Task completed, the scrofulous systems administrator stumbles from the Company Gwailo's lair just as Ms Fang the Hunter-Killer Secretary comes pouting through the door. "He wants to see you," she announces.
Seated at the triangular feng-shui table in the conference room, the Chairman of S-Meg Holdings is wiping drool from his mouth while flicking through a glossy magazine. Not just any magazine, but the latest edition of Every Big Boy's List of Obscenely Rich People in Hong Kong. Without looking up, he barks for Ms Fang, who is next to him in a flash.
"Tell Mr Huang I want to send a hand-written letter in, you know, that old poetry, to congratulate Li Ka-shing for, um, coming top again." The older he gets, the more compulsively the Big Boss needs to shoe-shine.
Peering over the great man's shoulder, I notice that the head of Cheung Kong and Hutchison might not exactly appreciate glowing respects in classical verse or any other style. "It says here that his wealth last year declined from 24 billion to 22," I point out. "US dollars, of course."
Miffed, the Big Boss turns the page. His part-envious, part-admiring eyes alight on Cheng Yu-tung, 86-year-old head of the New World empire. He licks the saliva from his lips as he reads out a sentence declaring Cheng's worth to have risen from US$9 billion to US$15 billion in 2011. He looks up in triumph. "Haven't seen him for a while. I think a friendly note to recognize his achievement."
Of course, Cheng – purveyor of fine bus and ferry services to Hong Kong's teeming masses – did not really enjoy a massive boost to his pile last year. He floated the venerable Chow Tai Fook chain of jewelry stores (whose founder's daughter I would have married had it been me), thus converting a private holding into a publicly listed one that the Forbes radar picks up.
The Big Boss is perfectly aware of this. Though he is not in the same league as the Big Lychee's Top Ten Plutocrats, his wealth is also divided into the visible and the invisible. It is a matter of great frustration. List assets on the stock market, and you have to let the whole world know all about your personal finances. Keep them secretly tucked away in your own private vehicles, and no-one will ever know how disgustingly rich you are, never deeply hate and resent you for it, and never be tormented by burning jealousy – all those things that define success and make life worth living.
The octogenarian Mr Huang shuffles in carrying his ink and brushes.