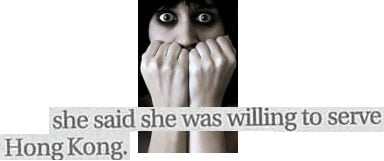 More frightening than an impending appointment for a root canal; more petrifying than the levels of radioactive iodine-131 in King's Park, Kowloon; more terrifying than huge, hairy spiders with fangs: few things are scarier than a former civil servant declaring that she is willing to serve Hong Kong.
There was a time when ex-Secretary for Security Regina Ip, having taken a seat in the Legislative Council in 2008, seemed mildly inclined towards favouring Executive Council 'Convener' Leung Chun-ying as the Big Lychee's next Chief Executive. But public opinion is not on CY Leung's side; his creepy, slightly menacing, demeanor and understated but long-held loyalty to the Chinese Communist Party is a big turn-off. So for the last year or so Regina has been more or less open about wanting the top job herself.
In practice, this means she has been getting in everyone's face a lot. Not content with publishing Learning English With Regina, she has been displaying her culinary skills, hanging out with young people, nurturing a little gang of groupies at her Savantas 'think tank' and launching the New People's Party with endorsements from such hip and trendy figures as ex-bureaucrat

Sir David Akers-Jones, landlord Allen Zeman and mildly tiresome TV chef Martin Yan-can-cook, with a mission to sell something called 'quality democracy' to the middle class.
Although the 2012 Chief Executive race attracts the psephological vocabulary of democratic systems – 'candidate', 'election', 'vote', etc – the result is decided in advance by the top level of the CCP in Beijing. The local procedure, in which 1,200 carefully selected individuals will form a make-believe Election Committee, is an embarrassing farce inexplicably taken half-seriously by international media who should know better. Even if there is a contest (Beijing will probably shoo away any rivals to its chosen one nearer the date), the procedure has all the integrity of a 99.99% vote for Kim Jong-Il.
How China's top leaders make their choice is another matter, however. Hong Kong, far and away the richest, most developed and most fundamentally stable and uncorrupt city in the country, is pretty low down their list of priorities. The only concern arising from their paranoid world-view is that the city could serve as a potential base for evil US/UK/Taiwan/Tibetan/Splittist/Counter-revolutionary/Neo-colonial enemies plotting to overthrow the regime.
With a deep distrust for the ex-British colony's population, they feel they can draw on only a narrow and shallow pool of local talent to run the place. So far, they have chosen a loyal second-generation tycoon of Shanghainese descent, Tung Chee-hwa, who provoked the city into a highly civilized but unmistakable semi-revolt. He was followed by an obedient, if British-trained and Catholic, bureaucrat, Donald Tsang, whose robotic approach to policymaking and reform-avoidance has left his administration an object of popular contempt.
The replacement of Tung with Tsang was, at the time, seen as an unprecedented (and totally implicit) gesture of appeasement by the supposedly all-powerful Communist regime to its local subjects. Something similar happened last year when Beijing contradicted all its loyal supporters dutifully spouting the party line and agreed to the 'unpatriotic' Democratic Party's proposed minor tweak to the 2012 electoral arrangements. These precedents support an unspoken understanding that the people of Hong Kong have a veto over the choice of next CE. To the extent this is the case, the job will go to whichever candidate acceptable to Beijing is least objectionable to the man on the Shau Kei Wan tram. That means that if you want to be CE in 2012, it won't be enough to make people like you; you have to get them to hate your rivals.
The word is that Beijing has penciled in Chief Secretary Henry Tang, scion of a Shanghai textiles fortune, as the next CE, with (probably) Secretary for Development Carrie Lam as his bureaucrat side-kick to give his nice-guy persona a bit of brain-power behind the scenes. (Why else would he be Chief Secretary?)
The idea would be to strike a balance. Tension between civil servants- and tycoons-turned politicians has been a feature of post-1997 Hong Kong, but both camps have disgraced themselves through arrogance, incompetence and self-indulgence. This is why CY Leung, an outsider with radical ideas about things like land policy, could be an appealing option for CE. But if Beijing is too nervous of public opinion (and of the property cartel, which hates CY), Regina could in theory be a sort of semi-outsider who could straddle the bureaucratic-business divide. That, at least, is what is probably going through her mind. All she needs to do is make us hate Henry more than we hate her. Should be entertaining.