A typical dining experience for two people in Macau goes like this: you choose a mid-range restaurant that you like the look of, you pick what you most want to eat, and at the end you find that, Macau being what it is, the bill comes to around HK$250. There is another approach, and that is to play the restaurant coupon game.  The object is to spend just over HK$300 in order to be able to enjoy a discount courtesy of a special HK$100 coupon. You have to go to specific outlets, and choose dishes you don't particularly want in order to get the bill up towards HK$350, thus qualifying for the discount down to HK$250. To add to the challenge, the restaurants seem to offer very few options enabling two diners not wanting to order more than three dishes to hit the HK$300-350 target. The menus are packed with tasty choices at around HK$90 apiece and all the usual status-symbol-slime like shark's fin, abalone or birds' nest at HK$1,000 a go – but not much in between.
Some people gain a great sense of achievement when they successfully obtain HK$100 worth of 'free' food that wouldn't normally be their first choice. I am not so sure, especially as the prize for winning seems to be yet more coupons, which give rise to a nagging question about who is actually the winner. Still, it was an excuse to try new restaurants over the weekend.
One, in the side of the old Hotel Lisboa, was a glitzy Shanghainese place memorable largely because most of the clientele seemed to be Mainland gangsters. Every table was dominated by a thuggish-looking, chain-smoking, crew-cut brute in a black jacket, black T-shirt and black pants, accompanied by identical-looking but deferential companions, and in some cases a moll in fluffy orange blouse, pink jeans and high heels. They didn't have coupons.
Another was the Relic Inn, at the seedy old Jai Alai near the ferry. This is very much a locals' place, with not a Mainland visitor to be seen. Straightforward Cantonese fare at such low prices that only a doggy bag justified the over-ordering necessary to claim victory in the coupon game.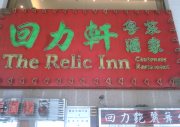 This too is a hotbed of evil. At Chinese New Year, I discovered, a woman's bag went missing. She insisted that the management check the CCTV to see who took it. Two culprits – well-known loan sharks from a nearby casino – were identified, but the cowardly restaurant staff strongly advised against bringing in the police. Then a phone call told the woman she could find the bag in a dark corner of a slummy building next door. And there it was, minus mobile phone and cash but with credit cards intact and a pile of torn-up empty laisee packets next to it. Play the restaurant coupon game and explore Macau's dangerous unknown criminal underbelly.
A calorie-burning rural stroll the next day yielded a new take on the Three No's…