The South China Morning Post reports minor uproar over something called The Action Plan for the Bay Area of the Pearl River Estuary. If alarmists like legislator Cyd Ho and district councilor Paul Zimmerman are to be believed, the Hong Kong government has been caught in the act of planning our city's long-term physical development behind closed doors with officials over the border. And it looks like it: tucked away in the Planning Department's website is a suspiciously brief and low-profile public consultation exercise for a Mainland-flavoured, detail-free report packed with trendy buzzwords on making the coastal Pearl River Delta paradise on earth.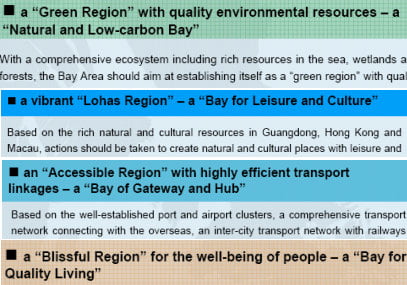 We are haunted by old fears dating back to the 1980s: grasping red-eyed cadres ooze their way over the border and sink their teeth into Hong Kong – or, to be blunt, its bulging fiscal reserves. In the first few years after the handover, the new Special Administrative Region's British-trained senior bureaucrats made a point of keeping Mainland counterparts at arm's length. The cadres complained to Beijing about this ex-colonial snottiness, and the word came down to cut it out. Nowadays, the official line in the Big Lychee's public sector is constant and incessant cross-border cooperation, integration, partnership and harmony, as exemplified through a dozen talking shops producing copious flimflam to give Mainlanders face. The leaders of Guangzhou, historic capital of the region, are especially prickly, harbouring deranged civic dreams of usurping Hong Kong as a port/financial hub/etc.
But Cyd Ho, Paul Z, et al are grabbing the wrong end of the stick. What the Hong Kong bureaucrats have been caught at is not sacrificing local autonomy to mainland interests, but cynically agreeing to a load of hyped-up baloney to keep the cadres over the border happy. The glossy consultation document, with its randomly coloured backgrounds, irrelevant photos, sloppy English and gushing stream of innovation/ecological/quality living gobbledygook is designed to fool our academic and civil service friends up in Guangdong into thinking we are taking them seriously when we're not.
If local activists want to accuse the Hong Kong government of anything, it should be its insincerity in claiming to want to make this part of the world a nicer place to live in. Take a quick trip through at least a few parts of the neigbouring region today and you can't help thinking that it might not be so bad if the Shenzhen, Zhuhai and Zhongshan planners really did replace ours here in the Big Lychee. It is not that the nearby Mainland cities are beautifully laid-out, exactly; just that our own local urban designers are a bunch of obsessive-compulsive psychopaths stuck in a 1970s rut of more density, more highways, more traffic, more smog, more concrete, and no place for humans. A classroom of nine-year-olds with a big box of Lego would do better.
To take one simple example. On page 12 (Action3: to promote Green Transport), a brightly coloured map shows Central and Tsimshatsui as 'demonstration' priority areas for non-motorized transportation, where "a mix of traditional cultures, retail shopping and leisure uses and well connected [sic] to public transport system would help create a convenient, safe, harmonious and pleasant environment for non-motorized travelers." You can tell just by reading it that the Hong Kong bureaucrats waved it through with a "yeah, sure, whatever," and a yawn.
And our local activists accuse them of meaning it? Fat chance.