Hong Kong starts Rabbit Year in that usual post-holiday state of slightly dazed emptiness, with streets, offices and coffee shops opening for business but not many people turning up.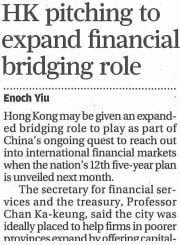 Newspapers are no exception, with the South China Morning Post's business section having to fill front-page space with vacuous bureaucrat-babble about the Big Lychee's exciting role in the 12th Five-Year Plan. It is a cascade of blather involving capital-raising for poorer provinces' companies, closing the gap with London and New York, acting as a springboard for Mainland companies' overseas expansion and – oh, how original – serving as an offshore Yuan trading centre.
The government's own website, oddly, features a little hint of substance: a recently issued press bulletin that is purely factual and neither condescending nor a clumsily futile attempt to manipulate public opinion. It is probably only of interest to statistics geeks, but it is better than nothing.
It seems we have just been through the coldest January since 1977, with an average temperature of 13.7C, 2.4C below normal. This was due to "the frequent replenishments of the winter monsoon…" Fourteen days were classified as 'cold' (by unaccustomed local standards), double the normal figure. For only the second time on record – the first being 1918 – the temperature did not hit 20C (68F) all month. It was also drier than usual, with 5.4mm of rainfall, just 22% of the normal figure.

The city would have been all but lifeless over the last few days were it not for the predictable influx of Mainland tourists. They should have been visiting grannies and parents-in-law; instead, they came here. Some were expertly recorded standing patiently in line outside the Tsimshatsui Louis Vuitton outlet.
This flagship store has four floors totaling nearly 19,000 square feet. There is no reason for anyone to wait outside on Canton Road other than to give them, through their discomfort, a false impression of exclusiveness. Many of the items are 'limited edition', and purchasers are limited to a quota, thus contriving a scarcity of what is really just horribly overpriced, ugly pseudo-luxury. This is called the 'shopping experience'. I'm showing my age here, but I distinctly remember the time (back around the big chill of 1918, perhaps) when Hongkongers would stop to watch Japanese office ladies in hats and frilly socks lining up for the privilege of stepping into an LV store in the Landmark in Central.
Not all visitors are so desperate to get inside Hong Kong's retail premises. Some of our less well-heeled guests last weekend came from Anhui and ended up having an altercation with their tour guide. The official story now is that it was a 'misunderstanding' – the last euphemistic refuge of a scoundrel unwilling to lose face when caught.
Reading between the lines it seems clear what happened. The unsalaried tour guide, totally reliant on kickbacks to feed starving children and incapable old parents, tried a bit too hard to force members of the cheap package tour to buy jewellery. One burly northerner had enough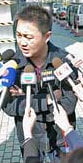 and the result was a fight. The Hong Kong travel industry, desperate to protect this lucrative arrangement by which it essentially pimps for retailers and landlords, swooped to the rescue and paid off the beefy Mainlander and his no doubt indefatigable wife to shut them up. Hence this Mr Zhang's appearance before the press to declare that it was all a language mix-up "before being driven away in a limousine."
Fortunately, our ever-effective law enforcers arrived on the scene before the tourism cover-up squad, so maybe we will learn the truth about this latest episode of visitors and guides being forced to leech off each other to generate the travel industry's profits. Just as luckily, the Mainland news media and web community are on the case. Although barred from mentioning their own local abuses of corporate power, like tainted milk powder, they are free to cover, and indeed blow gloriously out of all proportion, the appalling nature of the Fragrant Harbour as a leisure destination. Just in time, we can pray, to cut tourist arrivals just as Hong Kong gets back to its normal, sweaty, overcrowded self. Long live 'One Country, Two Systems'.