It must have been sometime around Christmas when I noticed the latest mysterious women's fashion fad. If you find yourself standing behind someone wearing what look like PVC tights on one occasion, you let it pass. But when you see another the following day, then two or three the day after, and then they're everywhere, you know something has happened. The product has been silently pre-positioned at suitable distribution points, the word has discreetly gone out that until further notice these are the things to be seen in, purchasing commands have been obeyed, and before you know it a sizeable proportion of the urban, 20-something female demographic is walking around wearing clingy leggings made of the same dull-glossy plastic they use for body bags. Black or grey only – mostly the former – to be sported beneath the sort of quasi-skirt some young women also like to wrap pointlessly over their jeans.
Are these items separate like stockings, or in one piece? If, as I suspect, the latter, are the waists elasticated, or fastened with a drawstring or buttons? Or are they held up by the adhesive action of their own clammy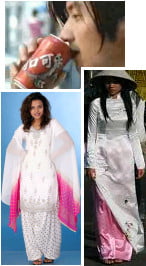 sweatiness? Do they have a name? How much do they cost? Which movie starlet or Cantopop star began the craze? Was it the same one who started the limp-wrist-hanging-hand habit affected by every other youngish lady in Hong Kong over the last few years? Or the one who made it cool to walk around with a Chihuahua in a shoulder bag? How much did the polythene pants conspiracy-cabal pay her? (If I recall, crooner Nicholas Tse was paid HK$1 million a year to carry a Coke can in his hand whenever in public, including traffic court appearances.) How do you wash them? Will the spray you clean PC monitors with do the trick? Do you iron them (or would they melt)? What will happen to them all when the trend fades? Are they biodegradable?
In Pakistan, ladies achieve elegance and comfort courtesy of the salwar kameez. In Vietnam, maidens enhance their graceful charm with the ao dai. And here in the Blissful Bay of Gateway and Hub, it's the cadaver pouch-lustre of black polythene hose.