With Hong Kong already starting to shut down for Chinese New Year, the government announces that Financial Secretary John 'HK$25 billion deficit' Tsang went to Kennedy Town for dinner last night. The Standard, meanwhile, lets us know that he is on track to record a budget surplus for 2010-11 of HK$70 billion or (probably)  more. To put this sum in context, total revenue in 2009-10 was HK$260 billion; his forecast for this year was out by a mere HK$95 billion (how wrong would he be if we didn't have a narrow tax base?).
Most of this unexpected pile of loot will be stashed away under the government mattress. Officials would love to find another excuse to channel more money to the cement cartel by ordering yet more bridges and highways to nowhere, but a crippling crunch in the supply of construction workers and materials probably rules that out. With great reluctance, our visionary leaders will apparently return an exceptionally generous HK$20 billion of this excess money taken from our wallets to us via the usual scattered, barely coherent range of goodies.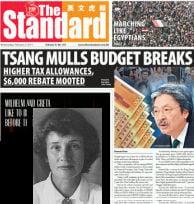 The 'government source' quoted by the Sing Tao/Standard (the South China Morning Post apparently wasn't in on the briefing) hints at yet another electricity subsidy, handed straight over to Hong Kong Electric (Li Ka-shing) and China Light and Power (the Kadoories) with an invitation to consumers to "leave the lights on – it's on us." Public housing rents will be waived (presumably for a month), as will property rates, which seem to have been suspended for years now. Welfare claimants will get a month's extra money, and salaries tax payers will get a rebate capped at HK$6,000.
According to last year's budget consultation, of the 3.5 million-strong workforce, only 1.4 million people pay salaries tax and the top 100,000 pay around 80% of the revenue from that source; 1.4% of the total population cough up 8.3% of total government revenue. It follows that these people have no real need for a HK$6,000 handout, and a fair number of us, if asked, would probably sooner see it given to someone who needs it (but not the NGO bore on the radio this morning claiming Hong Kong has a malnutrition problem).
As if anticipating such ungrateful shrugging, the mystery source suggests the rebate will simply be knocked off the next tax bill (to be paid in around 11 months' time). This is, apparently, to "avoid worsening inflation." The 100,000 top taxpayers would, in other words, rush out and blow their six grand on the first thing they see, while the public housing tenants, elderly and welfare recipients will of course diligently save their little bonuses for a rainy day or invest the cash and watch it grow.
We have at least one more year of this annual money-throwing ritual. In 12 months or so we should know whether the slightly dim rich-kid Chief Secretary Henry Tang, sinister and exotic Executive Council member CY Leung, grandmotherly but creepy former Legislative Council President Rita Fan or power-hungry but policy-free lawmaker and ex-civil servant Regina Ip will be stepping into CE Donald Tsang's shoes. Someone in there might, in theory, have a clue about serious reform (emphasis on 'might'). Or there's 'dark horse' John Tsang, in which case we can look forward to years more as Asia's aimless-handout hub.