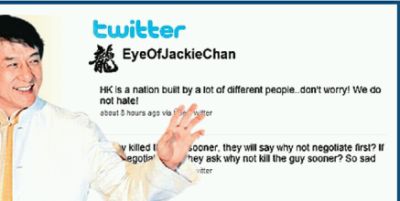 One of the Big Lychee's more embarrassing icons, has-been actor Jackie Chan, declares in a Twitter message that "HK is a nation." Maybe this is an attempt to atone for his widely reported comments that Chinese people need to be controlled and Hong Kong has too much freedom. More likely, it is a well-intentioned gesture to fulfill his role as Hong Kong tourism ambassador, goodwill ambassador for UNICEF, Chengdu panda ambassador or one of his other quasi-diplomatic positions by helping to avert what many see as an imminent catastrophe: a massacre of innocent Filipinos in the streets of Hong Kong as a backlash after the deaths of the eight tourists in Manila.
Others think such an outburst is highly unlikely, though admit it would be interesting. As the reaction to the bus killings shows, Hongkongers these days are mostly a soft bunch, unaccustomed to real violence. Filipinos, on the other hand, are a hardier breed and especially good with knives. Maybe actually being a nation helps, too. Time says we are a semi-autonomous sliver, which sounds like something surgeons cut off one of your internal organs even though it's benign, just to be sure.
A far more appropriate way to avenge the fallen tourists – and possibly do the Philippines a favour as well – is for Hong Kong to conduct a full investigation into what happened, as mentioned by Secretary Security Ambrose Lee. With the benefit of hindsight, plenty of 'How The Manila Cops Screwed Up' articles to cut and paste from, and their smart, well-pressed uniforms, the Hong Kong Police could issue an authoritative, withering and humiliating indictment of Philippine law enforcement, national leadership, community ethos and Malayo-Polynesian culture in general. Such a public slapping for the Republic's venal and amateurish leaders at the hands of a mere semi-autonomous sliver might wake up Filipinos, who are as sensitive to criticism from outsiders as they are oblivious to bad governance.
That's assuming that the semi-autonomous sliver's sovereign power would let it do such a thing. Beijing is eager to be friendly and cuddly in the eyes of Southeast Asia, and may not want Hong Kong to go around baiting the neighbours. In which case, unable to be Jackie Chan's nation that does not hate, we will just have to be Hong Kong Silent And Restrained.