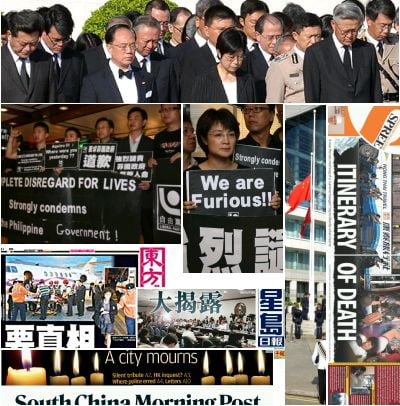 As the last injured victim is flown back to civilization (Tuen Mun Hospital, to be precise), Hong Kong's Manila bus hijacking drama enters its third act. After 'Shock and Horror' and 'Righteous Outrage', we now watch the curtain rise on 'Squeezing it for all it's worth', where the plot goes unashamedly down-market and commercial.
The administration of Donald Tsang has had a good crisis. For a while on Tuesday and Wednesday it was visibly displaying leadership, making decisions without pausing to worry about stakeholders, win-wins or consensus. Now it is returning to form, arguably overdoing the public mourning for fear of appearing uncaring, and taking the opportunity to push the tired and deluded message of harmony/pulling together/strength in adversity that for a dozen years has failed to divert attention from the city's real problems.
In Beijing – where the shooting of tourists, poisoning of babies or deaths of miners are seen in terms of maintaining Communist Party control – the government has balanced the desire to appear concerned and assertive with the need to keep nationalistic sentiment at reasonable levels. China's emissaries in the Big Lychee have maintained a high, grief-stricken profile at all the right times, even if the performance is as cold and wooden as always.
Jostling with them for limelight are our political parties (even the unloved and unlovable Liberals with their black protest signs), always eager to score populist points and never more amateurish than when dealing with international affairs. The League of Social Democrats, scourge of national and local administrations, is in its element with a third evil government to denounce.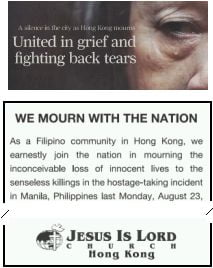 Of all the people making full use of the tragedy in Manila, none wants to prolong the grief and tears as much as the media. The SARS outbreak, the nearest recent trauma to this, offered plenty of opportunities to exploit nearly every emotional angle: fear, self-pity, heroism and – with nearly 300 deaths – anguish. But not blame. The fault in 2003 lay squarely with Mainland officials who covered up the disease, and it wasn't polite to point this out. This time, they can point the finger loudly and angrily at a tin-pot police force in a country full of brown people, on behalf of Hong Kong victims in dangerous foreign parts, and you can be sure they will. They must be starting to worry about what they'll have to print next week.