The Chinese government, accustomed to ignoring, fearing or barracking the Hong Kong people, gets a rare opportunity to come to their loyal compatriots' defence by angrily demanding that the Philippines investigate how eight Hong Kong tourists ended up dead after Monday's bus hijacking. On-line nationalists join in the criticism of the authorities in Manila. Hong Kong people themselves flock to websites and the Philippine consulate to make their disgust known.
There is a subtext here that goes something like this…
The Philippine National Police and other law enforcement agencies in Manila in fact have a highly trained, superbly equipped, fearless, state-of-the-art special-operations squad. They can leap from helicopters, abseil down skyscrapers and burst through windows. They can insert hidden cameras and microphones anywhere. They have guns that shoot round corners, laser rifle sights, night vision equipment, robots, armed dogs, body armour, stun grenades and the latest, most sophisticated radio networks.

But these elite forces are called out to rescue only hostages who are Filipino, African, Eskimo, Western, Japanese, Korean, Arab, Turk or Pacific Islander. If they are Chinese, the senior commander says: "Nyaaa, don't bother with the hi-tech SWAT Team, just send in a bunch of petrified idiots with ill-fitting helmets and a hammer, because the hostages are only Chinese, so what the hell hahahahahah!"

Just wait until we sort out the South China Sea issue and they find Rizal Park is PRC territory at high tide.
The rumour is that the Big Lychee's overworked, double-income, middle-class families are firing their Filipino maids in protest at the tragedy in Manila. So in theory we should soon be seeing truckloads of tearful, dusky young women tied together by their thumbs trundling to the airport for deportation. Followed by the sight of certain people wiping their own baby's backside, mopping their own floor, washing their own car at 5am, picking up their own Airedale's excrement with newspaper, and telling their overweight teen to carry his own school bag. Or maybe not.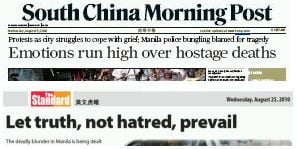 OK, it's been over 36 hours now – time to get down to the really important details we are all bursting with curiosity to know about.