The persecution of Lantau International School at the hands of murky 'rural interests' and the Environmental Protection Department continues, with the Noise Control Appeal Board confirming the validity of a noise reduction order. When outside during playtime, the kids create a noise level of 62dB, which, in plain English, could be worse.  But it's 2dB above the limit for the area, known for its graveyard-like silence and its local residents' extreme aural hypersensitivity. So LIS has to find a way to cut the din.
The South China Morning Post reports the matter as one of a villager called Jenny Tam driven to torment by children laughing and playing music (as, in all frankness, I would be). An alternative story is one of apparent collusion between the EPD and the local village leadership who seem to have it in for the racially mixed institution; another school in the neighbourhood, full of all-Chinese students, can carry on as usual. If the Board's decision is on the EPD website, they've done a good job of hiding it, but Kafka fans may see it here.
Lantau is a hotbed of scholastic strife. On the surface, it is a sleepy and happy land of buffalo droppings, snakes, mosquitoes, extraterrestrial mutant vegetation and people building houses on other people's driveways. Dig down, however, and you find a battlefield of festering feuds in which everyone hates everyone else's educational hopes and needs. The only thing that unites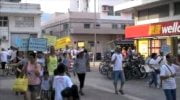 the community is the creepy Christian drug treatment centre, which they have nothing against personally but will torch if it moves its premises anywhere near them.
Interfere at your peril. A sizable, empty school sits idle in the heart of bustling Mui Wo. There are (officially) too few high-schoolers to make the facility viable, so, much to everyone's fury, older kids have to commute to schools somewhere over near Papua-New Guinea. To a layman onlooker pulling tattered protest banners aside and peering through the locked gates of the deserted campus, it would seem perfectly possible that the authorities could justify reopening the place by (say) letting the local high-schoolers and/or LIS and/or the creepy Christian drug-fiend-rehab buffalo-rapists share it. Such a Solomonic utterance will have you scratched off every Christmas card list in town, in seconds.