Everyone, from the middle-class Civic Party, to the Standard's fictitious pro-establishment shoe-shining editorialist Mary Ma, to the radical League of Social Democrats, to the police, to the pro-Beijing Democratic Alliance for the Betterment of Hong Kong join the Big Lychee's great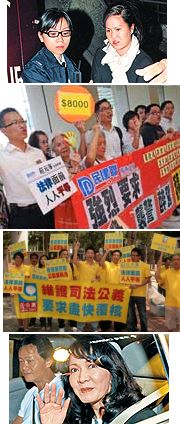 cause celebre: outrage at Magistrate Anthony Yuen's decision to let senior judge's niece Amina Mariam Bokhary off without jail time after her third conviction for assaulting a cop, because she comes from a nice rich family.
Everyone. I had never heard of the Young Liberals before, but there they are, standing there in their yellow T-shirts – the junior wing of everyone's favourite pro-cartel, pro-inherited wealth political party, demanding equality before the law for all. (I say 'everyone'. Our least-favourite pro-cartel, pro-inherited wealth political party, the Liberals' odious Economic Synergy offshoot, have yet to jump on the bandwagon.)
Needless to say, such a cacophony leaves the government with no choice but to go into full, panicky damage-limitation mode, dousing the flaming doors of empty stables and asking Magistrate Yuen to review his judgement.
It is easy to see why the street-fighting LSD are up in arms: when their members slap a cop, they end up behind bars for a week or two. Our gallant law enforcers' anger is not hard to understand either: I wouldn't like it if a court ruled that it is OK for people to hit me provided they're wealthy and did well at school. But when 'Mary Ma' and the Liberals start calling for equality and justice, you know something is up.
This is not mere populism, though the Standard has readers to attract and the Liberals have delusions of winning votes in democratic polls. Yuen's sentencing and comments come at a bad time.
Hong Kong property developers have become so unpopular that they've commissioned Ogilvy Public Relations to tell them exactly what aspect of their conniving thievery is the problem. Even the banks are telling customers they can't afford a home. New Privacy Commissioner Allan Chiang is a bureaucrat has-been buddy of Chief Executive Donald Tsang who as Postmaster General spied on staff areas with hidden cameras. Prudence Chan, caught fibbing about whether the MTR's Octopus company was selling cardholders' data, announces her graceful and unhurried resignation.
Things aren't spiraling out of control, exactly, but there is a whiff of 2003-style revolution in the air – except this time aimed at an entire ruling caste. The last thing the great and good need is a dickhead magistrate riling the common folk by doing favours for a spoilt, well-connected dipso who whacks dutiful constables. Outraged Trotskyites, angry police officers and conscientious lawyers scrabbling to lynch Magistrate Yuen will have to fight their way through the city's elite first.